Recognition and Management of Common Neurosurgical Conditions in the Pediatric Practice
You are here
Recognition and Management of Common Neurosurgical Conditions in the Pediatric Practice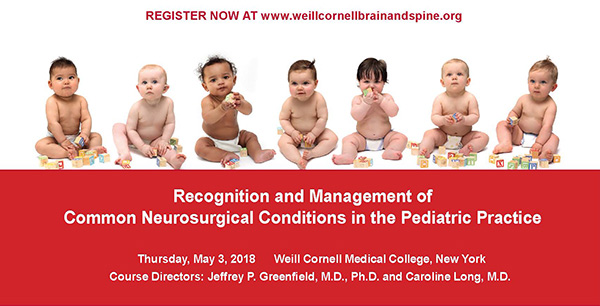 This one-day CME course is designed as a ground-level-up educational seminar to teach or refresh pediatricians and nurse practitioners about disorders that may need further evaluation by a pediatric neurosurgeon (such as pediatric brain tumors, seizures, and inborn abnormalities of the spine, face, and head). Attendees will learn how to recognize these infrequent occurrences in the midst of a busy pediatric practice as well as how best to triage, when to image, and when to send the child to an emergency room.
REGISTRATION NOW OPEN!
Click here for more information,
or to register for this course
If you'd like to be added to our mailing list to find out when we schedule new CME events, click on the Sign Up Now button below. We won't spam you - we will only email you to let you know about upcoming courses.