Jeffrey P. Greenfield, M.D., Ph.D.
You are here
Jeffrey P. Greenfield, M.D., Ph.D.
Dr. Greenfield is a board-certified neurosurgeon who specializes in pediatric neurosurgery, but he also sees adult patients with certain neurosurgical conditions. He has a special interest in minimally invasive endoscopic approaches that are less traumatic than traditional surgery for his young patients and their families. He directs the pediatric skull base surgery, epilepsy surgery, and spasticity surgery programs. Chiari malformation, hydrocephalus, tethered cord, and surgery for tumors of the brain and spine make up the majority of his clinical practice.
In addition to minimally invasive endoscopy, Dr. Greenfield is an expert in utilizing intraoperative brain mapping and imaging. His research has been widely published and he received numerous national awards from the neurosurgical societies during his training. He is available for consultation for central nervous system anomalies detected during pregnancy and for any pediatric neurosurgical conditions that occur, recur, or present throughout the patient's entire life.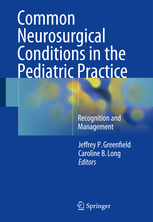 Dr. Greenfield is co-author of
Common Neurosurgical Conditions in the Pediatric Practice: Recognition and Management, recently published by Springer
TRAINING
Dr. Greenfield graduated from Amherst College magna cum laude in Neuroscience before receiving his M.D. and Ph.D. degrees from the Weill Medical College of Cornell University. Following completion of his neurosurgical residency and chief residency at NewYork-Presbyterian Hospital/Weill Cornell Medical Center, Dr. Greenfield received further training in surgical treatment of brain tumors, epilepsy, spinal dysraphism, complex spinal column injury, spinal cord tumors, and fetal surgery for myelomeningocoele at The Children's Hospital of Philadelphia.
RESEARCH
Throughout his training, Dr. Greenfield maintained an active research interest in low-grade tumor biology and angiogenesis as they relate to pediatric brain tumors, especially rare and inoperable tumors. He has also begun standardizing the analyses of all brain tumor specimens to include advanced genomic analyses with an aim towards specific personalized treatment strategies being developed against each tumor. He received fellowship training in stem cell biology at the Ansary Center for Stem Cell Research during his neurosurgical training. Dr. Greenfield is uniquely trained and positioned as both a neuroscientist/biologist and as a pediatric brain surgeon. This unique combination permits a facile and direct analysis of specimens from the operating room into his laboratory, with the hope of translating scientific discoveries to the patients he is actively caring for.