Chief Neurological Surgery Residents Graduate
You are here
Chief Neurological Surgery Residents Graduate
Chief Residents Babacar Cisse, M.D., Ph.D., and Nelson Moussazadeh, M.D., have completed their seven-year neurosurgical training program at Weill Cornell Medicine (and NewYork-Presbyterian Hospital and Memorial Sloan Kettering Cancer Center). Dr. Cisse will join the Weill Cornell Medicine Brain and Spine Center as an Assistant Professor of Neurological Surgery, and Dr. Moussazadeh will begin a fellowship in neurosurgical oncology at the University of Texas MD Anderson Cancer Center.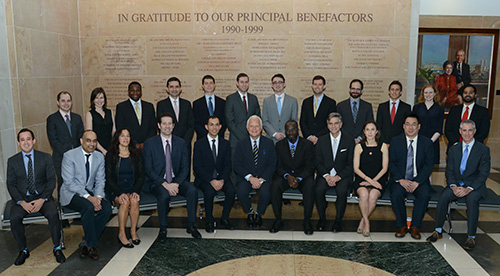 Dr. Philip Stieg, Professor and Chair of the Department of Neurological Surgery, seated at center flanked by graduating residents Dr. Nelson Moussazadeh (to his right) and Dr. Babacar Cisse (on his left) along with the faculty mentors who have seen the graduates through. The 12 residents who are moving up are standing at rear.
Joseph Carnevale, M.D., and Jacob Goldberg, M.D., will join the Department of Neurological Surgery in July as first-year residents.