Dr. Howard Fine Brings His Neuro-oncology Expertise to Weill Cornell
You are here
Dr. Howard Fine Brings His Neuro-oncology Expertise to Weill Cornell
Howard A. Fine, M.D., has been appointed to the neurosurgery and neurology faculties of Weill Cornell Medical College, where he will serve as the chief of the Division of Neuro-oncology in the Department of Neurology; he will also serve as Director of the Brain Tumor Center and Associate Director for Translational Research in the Sandra and Edward Meyer Cancer Center.
Dr. Fine is an internationally known neuro-oncologist who has previously served as chief of the neuro-oncology branch of the National Cancer Institute (NCI). At Weill Cornell Dr. Fine holds appointments in both neurology and neurosurgery and will work closely with our experts in stereotactic radiosurgery, radiation oncology, and interventional neuroradiology to offer the most leading-edge treatments available for brain tumors.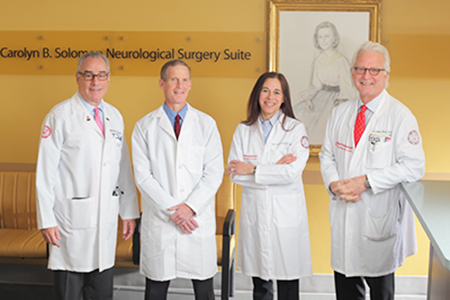 L-R: Dr. Matthew Fink, chair of neurology; Dr. Howard Fine, director of neuro-oncology in the department of neurology; Dr. Susan Pannullo, director of neuro-oncology in the department of neurosurgery; and Dr. Philip E. Stieg, chair of neurosurgery
"I am delighted to welcome Howard Fine to Weill Cornell," says Dr. Philip Stieg, chair of neurosurgery and neurosurgeon-in-chief of NewYork-Presbyterian/Weill Cornell Medical Center. "The neurosurgery team already offers a comprehensive range of treatment options, including the stereotactic radiosurgery program managed by Dr. Susan Pannullo and the interventional neuroradiology program directed by Dr. Y. Pierre Gobin. Dr. Fine will collaborate with our neurosurgeons in translating research to the clinical setting, particularly in the area of precision medicine and patient-specific therapy.  Having a world-class neuro-oncologist on our team greatly expands our offerings and reconfirms our standing as the number one brain tumor center in the New York area."
"I'm looking forward to partnering with Dr. Fine on advanced treatments for brain tumors," says Dr. Pannullo, Director of Neuro-oncology and Director of Neurosurgical Radiosurgery at the Weill Cornell Brain and Spine Center. "He brings tremendous oncology expertise to our multidisciplinary team. Our brain tumor program continues to grow and expand, and I'm delighted to have Dr. Fine and all the new resources of the Meyer Cancer Center as part of our offering."

In addition to his clinical practice Dr. Fine is a prominent researcher in the field of neuro-oncology and has written and lectured widely on brain tumor research. Dr. Fine will lead many clinical trials at Weill Cornell, creating one of the most impressive arrays of potential treatments for his patients. 

"This is a wonderful addition to the team," says Dr. Gobin, Director of Interventional Neuroradiology (INR). "Dr. Fine's research is the perfect complement to many of the advanced treatments we offer in our INR suite, including intra-arterial chemotherapy for brain tumors."

Dr. Fine earned his medical degree at the Mt. Sinai School of Medicine and completed his residency in internal medicine at the University of Pennsylvania. He also completed a fellowship in medical oncology at the Dana-Farber Cancer Institute in Boston. He recently co-authored "Clinical Cancer Advances 2015: Annual Report on Progress Against Cancer" from the American Society of Clinical Oncology.
More about Clinical Neuro-oncology  |  Surgical Neuro-oncology