Minimally Invasive Spine Surgery in Queens
You are here
Minimally Invasive Spine Surgery in Queens
Dr. Srikanth Boddu estimates that he's performed more than 600 kyphoplasty procedures in his years as a specialist in interventional neuroradiology – but it was especially gratifying to perform his first ever at NewYork-Presbyterian Queens this summer. Kyphoplasty is a minimally invasive procedure that can restore the height and strength of a vertebra damaged by a compression fracture, bringing quick relief to patients with very little pain, fast recovery times, and very little scarring.Kyphoplasty involves the injection of special cement into a shattered vertebra. The cement fills in the cracks and restores the vertebra to its original height and position (or nearly so). (More about kyphoplasty)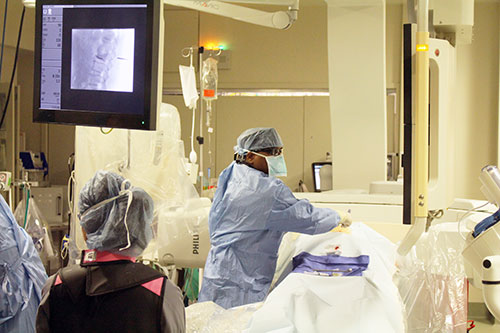 Dr. Boddu performs a kyphoplasty on a patient who had suffered a painful spinal compression fraction in a fall.
"This procedure is not new, but not everyone can do it," says Dr. Boddu. "It requires just the tiniest of incisions to insert the instruments, so the scarring is virtually nonexistent. It's performed under image guidance, meaning we can monitor the procedure as we work, making sure that we get the best penetration into the many cracks in the bone."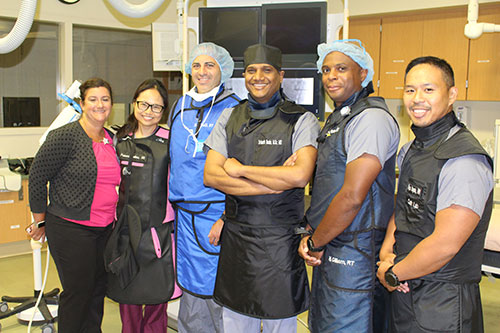 Dr. Boddu works with a world-class team at NewYork-Presbyterian Queens. From left to right: Jennifer Haniff; Ana Frances Medina, RN; Daniel O'Neill, CVRT; Dr. Boddu; Norman Gilliam, CVRT; Ryan Algenio, RN
Dr. Boddu joined the neurosurgery faculty of Weill Cornell Medicine in August after three years as a fellow in radiology at the Upper East Side main campus. He will work primarily out of NewYork-Presbyterian Queens, and will also see some patients in Manhattan. His appointment to the Queens campus of NewYork-Presbyterian greatly expands the availability of kyphoplasty and other minimally invasive neurosurgical procedures in New York City's largest borough.