A New Face for the Weill Cornell Medicine Center for Comprehensive Spine Care
You are here
A New Face for the Weill Cornell Medicine Center for Comprehensive Spine Care
New York City pedestrians, drivers, and taxi passengers have a new smile to greet them as they make their way up Third Avenue these days. Elle Aviv, whose successful surgery at Weill Cornell Medicine and NewYork-Presbyterian left her free of pain and allowed her to go back to her active life, is appearing on a billboard there promoting the services of Weill Cornell Medicine spine specialists.
Elle, whose herniated disc had been causing excruciating pain in her neck, shoulder, and arm, had felt so debilitated that she'd found it difficult to work or travel, but she was resistant to the idea of surgery. That was until she met Dr. Eric Elowitz, a neurosurgeon who specializes in minimally invasive spine surgery.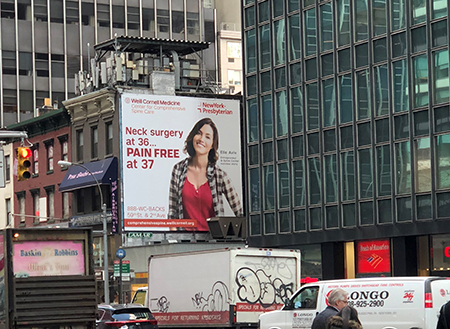 "Dr. Elowitz is so kind, informative, and patient, with an excellent bedside manner," says Elle, "I had complete trust in him and his abilities." The surgery was a success, and Elle was so delighted with the results that she agreed to lend her smile to the Third Avenue billboard. (No More Pain in the Neck: Read Elle's story here.
More about MIS artificial disc replacement