Children's Oncology Group Protocol for Collecting and Banking Pediatric Brain Tumor Specimens
You are here
Children's Oncology Group Protocol for Collecting and Banking Pediatric Brain Tumor Specimens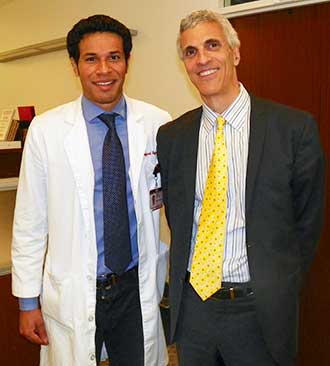 Dr. Mark Souweidane and Dr. Prajwal Rajappa head up the Weill Cornell Pediatric Brain and Spine Center's participation in a long-term study of brain tumor tissue samples collected from pediatric patients around the world. Weill Cornell is a member of the Children's Oncology Group (COG), which brings together more than 8,000 childhood cancer experts at more than 200 institutions worldwide.  COG is funded by the National Cancer Institute and is charged with leading the fight against all forms of childhood cancer.
This brain tumor protocol allows us access to tissue and accompanying blood samples, so we can conduct laboratory tests on them to help us understand the biology of pediatric brain tumors. Our objective is to collect tumor tissue and blood samples and store them safely here at Weill Cornell for ongoing studies.  An unlimited number of specimens will be collected from patients from newborns to age 18; samples may be taken at the time of diagnosis, at the time of "second look" surgery, at recurrence, or at the development of a second malignancy.
This collaborative approach to pediatric brain tumors is critical to helping us find answers. The tumors are too rare, and our teams too small, for any one institution to be able to do this alone. Together, though, we can help advance the science and start to unlock the mysteries of pediatric brain tumors.
Protocol Coordinator: Prajwal Rajappa, M.D.
Principal Investigator: Mark M. Souweidane, M.D.
Phone: (212) 746-2363