Mentorship
You are here
The Department of Neurosurgery is working to affiliate with the Mentoring in Medicine program, which works with students starting in third grade and continuing through medical school and other professional health-care schools. Mentors work with under-served populations to develop the passion and skills required to build a diverse health-care workforce to meet the needs of our population. 
Our faculty also works with the students at Academies@Englewood, a high school program that prepares students for careers in professions including law and medicine. Within the medicine program, students have access to advanced coursework and mentoring from medical professionals.
In 2018 Weill Cornell introduced the PrIMES program, which was created to reduce the healthcare education diversity gap through a targeted mentorship program between current and prospective URiM (Underrepresented Minorities in Medicine) medical students.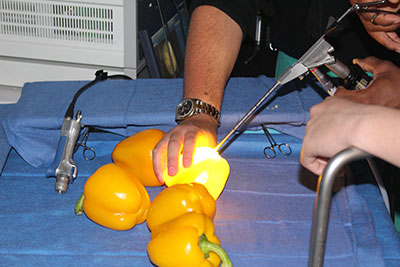 Students from two Bronx high schools spent time in our Surgical Innovations Lab learning how to use advanced endoscopic tools.
Read about our Mentoring in Medicine lab sessions.