An Endoscopic Fix for Craniosynostosis
You are here
An Endoscopic Fix for Craniosynostosis
It was on a Friday when Rachel Sarway took her four-month-old son, David, to a new pediatrician for a checkup. It was a routine well-baby visit, so she wasn't prepared for the doctor's reaction, or for the whirlwind of events to come over the next week. David had had a slightly misshapen head and pulled-back eyes since birth, and although Rachel and her husband, Ralph, were becoming increasingly concerned about it, their previous pediatrician had assured them nothing was wrong. They'd certainly never thought of it as an emergency, but David's new doctor told them otherwise.
"It's a cranial defect called dolichocephaly," Dr. Edward Gindi said of David's head shape. "You should take him to a see a specialist — immediately." Shocked, Rachel and Ralph quickly researched the condition and contacted Dr. Mark Souweidane, director of pediatric neurosurgery at the Weill Cornell Medicine Brain and Spine Center, who was able to see David that Monday.
Dr. Souweidane confirmed the diagnosis: David's "dolichocephalic" (elongated) skull shape was the result of sagittal synostosis. That's the most common form of craniosynostosis, a condition caused by the premature fusing of a tissue in the skull called the sagittal suture. The result was a long and narrow skull shape known as dolichocephaly, or scaphocephaly, and Dr. Souweidane told the couple that the condition would worsen as David grew.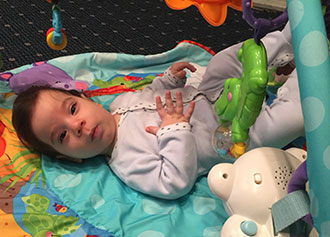 Craniosynostosis prevents the skull from expanding normally, Dr. Souweidane explained. In a healthy infant, elastic tissue called sutures between the bony plates allow the skull to expand as the brain grows, only fusing after the period of rapid brain growth is complete. When one of the sutures fuses prematurely, the plates can't expand in that direction and the growing brain pushes out in the only direction it can, distorting the head shape.
Surgery is the only way to correct craniosynostosis – and the sooner the better. New minimally invasive endoscopic techniques for removing closed sutures are best performed on infants younger than three or four months, since the rapid brain growth of early infancy helps reposition the skull's bones after surgery. David was already on the upper end of eligibility, Dr. Souweidane told them, so if the Sarways wanted the endoscopic approach they'd have to decide quickly. As in, right then.
"Dr. Souweidane was very calm about the situation and confident about the prognosis, and he explained the surgical options very carefully to us," says Rachel. "But David only had a small window to undergo the less invasive endoscopic procedure, and that's the one we wanted because we felt it was less risky." Although the couple had made appointments with two other neurosurgeons later that week, they cancelled them based on their confidence in Dr. Souweidane.
The procedure was scheduled for Friday, just four days later (exactly a week after that momentous pediatrician visit). But in order to be cleared for surgery David needed blood work done and approved by a hematologist – ASAP. "That week was overwhelming," Rachel recalls. "Time was running out, and we needed the test results." Dr. Souweidane's team made phone calls to expedite the process. "They coordinated everything for us and made it so seamless," says Rachel.
Relieved and completely confident in Dr. Souweidane and his team, Rachel and Ralph nonetheless found themselves frightened and sad when their baby was wheeled into surgery.  "Our heart was breaking for David and we felt so helpless," Rachel recalls.
A couple of hours later, when Rachel and Ralph were reunited with David in the recovery room, their hearts broke again. "His head and neck were all wrapped up so all you saw were his swollen eyes, nose, and mouth," she says. "He was totally out, but he still held my finger."
By the second day after surgery, however, David was awake, smiling, and cleared to go home. "When they removed the dressings you could already see a substantial difference," says Rachel. "He recuperated really quickly with minimal crankiness and pain.  The doctor told us he would do great, and he did."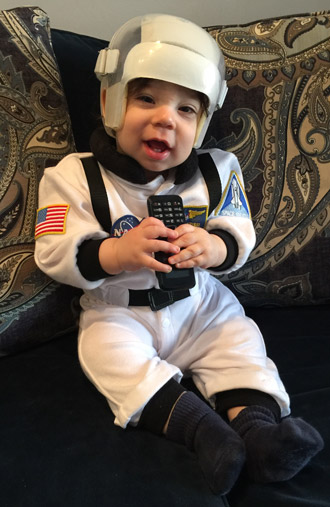 The next step was helmet therapy, which would require David to wear a cranial remodeling device 23 hours a day for the next nine months to a year. The special helmet slowly reshapes the head and prevents the bones from fusing back abnormally, and it's the tradeoff for having had the endoscopic surgery. (The open, more invasive version of the surgery does not require helmet therapy afterward.)
"I was worried about how he would sleep with the extra bulk of the helmet, but he had no issues with that at all," says Rachel. "He slept that first night with the helmet on like he did every other night."  
Over the next few months, David continued to take it all in stride. "He hit all his milestones and was able to fully lift his head while on his stomach," says Rachel. "He crawled on time, pulled himself up, and did everything that he was supposed to."
Of course, it isn't all effortless. Rachel and Ralph have to clean and air out the helmet daily, and Rachel says she's sometimes impatient with the barrier it can create to hugs and kisses. "When his helmet is off we really enjoy kissing his cheeks," she says.
Helmet therapy also requires monthly visits to the orthotist's office to check David's progress, and to make sure the helmet fits properly and isn't causing any irritation. "It's a worthwhile tradeoff, though," says Rachel. "Plus, he looks really cute in the helmet, and his older brothers and sisters love to show him off."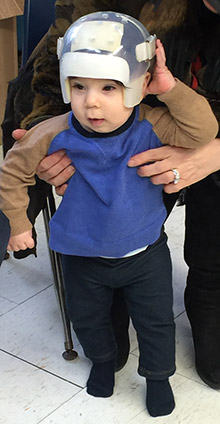 Today, with just another month of helmet therapy to go, David's head shape is already measuring in the normal range. The final month will allow even more progress, Rachel and Ralph are looking forward to David's first birthday in June when the helmet will likely come off for good.
"We're so happy with our decision and so grateful to Dr. Souweidane," says Rachel. "He's not only an incredible doctor but an amazing human being. He was very patient and professional and at the same time so warm and caring. We also loved how he interacted with David. We knew he was one in a million the moment we met him," she adds. "Expertise is crucial, but when a doctor is able to show respect and care for his patients that is just something incredible."
Update: David's "No More Helmet" Day
It was good news all around when Rachel Sarway brought David in to see Dr. Souweidane eight months after his endoscopic surgery for craniosynostosis. David is doing extremely well, says Dr. Souweidane, and he no longer needs the remodeling helmet he's been wearing since the surgery. See photos below of the big day.
More about our Craniofacial Program