Pediatric Neurosurgical Fellowship
You are here
Pediatric Neurosurgical Fellowship
Overview: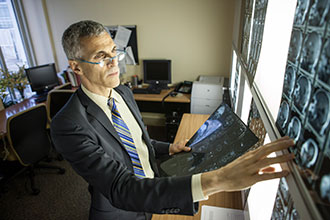 A one-year clinical fellowship in Pediatric Neurosurgery beginning July 1 of each year is available to qualified applicants. This fellowship is not accredited by the Accreditation Council for Pediatric Neurosurgical Fellowships and by the Committee on Subspecialty Training of the Society of Neurological Surgeons. Therefore, fellows are not selected through the regular process managed by the Fellowship Match for Neurological Surgery (San Francisco Matching Programs).
The fellowship is designed to provide the graduate of a neurosurgery training program a comprehensive exposure to clinical pediatric neurosurgery. The primary goal is to educate postgraduate neurosurgeons on the detailed diagnostic and therapeutic options available for children with neurosurgical conditions.
The Pediatric Neurosurgery service at the NewYork-Presbyterian Hospital/Weill Cornell Medical Center ranks as one of the busiest providers for children in the metropolitan New York City area. The center is the highest ranking children's hospital in New York for pediatric neurology and neurosurgery in the 2011–2012 U.S. News and World Report survey.
The program faculty includes Mark M. Souweidane, MD, Jeffrey P. Greenfield, MD, PhD, and Caitlin Hoffman, MD.
The clinical spectrum and operative experience is extensive. The program is notable for the emphasis on minimally invasive and endoscopic surgery. The experience in intraventricular endoscopic surgery and transnasal skull base approaches is amongst the busiest worldwide. Tumor surgery is emphasized through traditional approaches and the use of intra-operative MRI. Pediatric vascular disorders are commonly treated using state of the art adjuncts including intra-operative angiography and an innovative interventional neuroradiology program. Multidisciplinary programs include comprehensive epilepsy, craniofacial, neuromodulation (movement disorders and spasticity), neuro-oncology, perinatal neurosciences, myelodysplasia, traumatic brain injury and concussion, and skeletal dysplasia.
Facilities:
The fellowship is based at the New York Presbyterian Hospital and Komansky Center for Children's Health. Affiliated institutions include the Hospital for Special Surgery and Memorial Sloan-Kettering Cancer Hospital, ranked first and second in the 2011–2012 U.S. News and World Report survey in their respective fields of orthopedics and cancer.
Application Prerequisites:
The Pediatric Neurosurgery fellowship is open to U.S. and non-U.S. graduates of a neurosurgery training program. All applicants must be eligible for a New York State medical license. University sponsorship for an H-1B visa requires successful completion of all three steps of the U. S. Medical Licensing Exam (USMLE), or equivalent as determined by the Secretary of Health and Human Services.
Application Process:
Each applicant is required to submit a completed application (curriculum vitae, personal statement, and three letters of recommendation) to:
Mark M. Souweidane, MD
Weill Cornell Medical College
520 East 70th Street, Box 99
New York, New York 10065
Email: mmsouwei@med.cornell.edu
Phone: 212-746-2363
Fax: 212-746-7729
Application materials must be complete no later than December 31 of the year before the fellowship year.
Meet our previous Pediatric Neurosurgical Fellows
See also: Medical Student Fellowship in Pediatric Neuro-oncology