A Storm of Ideas: Dr. Apuzzo Talks About the Award Named for Him
You are here
A Storm of Ideas: Dr. Apuzzo Talks About the Award Named for Him
A conversation with Dr. Michael Apuzzo is like a whirlwind personal tour of modern neurosurgery. He wasn't just present at the creation of such revolutionary developments as microneurosurgery, stereotactic neurosurgery, and endovascular neurosurgery — he was instrumental in cultivating them and bringing them from concept to reality. After nearly 50 years in the field he has credentials and connections that reach across the United States and around the world, and he is not slowing down.
Over the past few decades Dr. Apuzzo has helped nurture the field of neurosurgery through a period of exponential growth and development, but he is not about to dwell on the past. He's always been what he calls a "neurosurgical futurist," and the horizon continues to hold his focus. It's no wonder then that the new Michael L. J. Apuzzo Resident Literature Award for Creativity and Innovation recognizes outstanding contributions by neurosurgery residents to the peer-reviewed medical literature. Today's residents are the future of neurosurgery, he says, and that's where his attention lies.
"Ideas are the catalysts for progress," he says, "and we need to encourage and reward the creativity and innovation of young neurosurgeons who are publishing today. Their ideas need validating through publication in peer-reviewed academic journals, and this new prize will recognize innovative ideas that have been validated and are moving things ahead."
Above all, what Dr. Apuzzo values is what he calls "the storm of ideas" and the sense of "restless discomfort" that he believes are what drive innovation. "We have to refuse to accept the status quo," he says. "We always have to be identifying the roadblocks and finding ways to move forward. We have to ask ourselves what the problems are, why we can't cure some diseases, and what are the apertures for progress?"
Dr. Apuzzo believes he has found one of those apertures for progress in the work of Dr. Brenton Pennicooke, the first winner of the Michael L. J. Apuzzo Resident Literature Award for Creativity and Innovation. (More about the winning paper.)
That's not to say that Dr. Apuzzo isn't willing to share his past experiences, in the name of educating others about how the field evolved. He is a veritable "who's who of neurosurgery" who fondly recalls friendships and collaborations with some of the biggest names in the field. "Keasley used to come over to the house when I was a kid," he says casually, referring to Dr. Keasley Welch, the distinguished neurosurgeon who served as chairman of the department of neurosurgery at Brigham and Women's Hospital in Boston from 1971 to 1987.  Dr. Welch was a friend of Dr. Apuzzo's uncle, who introduced his pal to the future neurosurgeon, his nephew.
Dr. Peter Black followed Dr. Welch as neurosurgery chair at Brigham and Women's, and Dr. Apuzzo was a friend of his as well.  "Peter was looking for a cerebrovascular surgeon one time and I reviewed some CVs for him. That's where I found a young neurosurgeon named Phil Stieg – I liked his Midwestern roots, and I found him to be a good, loyal, real kind of guy. I think that worked out pretty well," he adds with a laugh, noting that Dr. Stieg now chairs the department of neurological surgery here at Weill Cornell Medicine, where Dr. Apuzzo directs academic publishing. 
"Phil Stieg is a visionary," Dr. Apuzzo says admiringly. "He is always pushing for continued growth, always looking ahead."
Looking ahead, while talking with the man who foresaw the potential in neurosurgical techniques that are now standard practice, it's only natural to ask about the next big thing. Dr. Apuzzo doesn't hesitate before answering. "The future is in neuro-restoration," he says. "We know so much more now than we did even twenty years ago about functional loss and restoration. Neurosurgery has been all about taking things out of the brain – removing tumors, aneurysms, AVMs – but the future is the opposite of taking things out. It's about restoration, getting function back into the brain. Tomorrow's neurosurgeons have to be more like engineers, because that's where the future is."
Basically, Dr. Apuzzo says his ultimate goal would be to eliminate neurosurgery as we know it entirely. "I don't want to open up someone's brain," he says. "We can develop new cures that don't require open surgery. I see great promise in immunotherapy and radiosurgery, and other techniques and technologies that let us cure the brain without opening it. It may be 50 years until we get there, but this is where we are going."
Dr. Apuzzo knows that some may be skeptical, but it's probably a good idea to heed his prognostication. "Endovascular neurosurgery used to be a far-out concept!" he reminds us. And when the man who foresaw its adoption as a routine part of neurosurgery speaks about what's next, it's wise to pay attention.

More about the new Apuzzo Prize | About the Inaugural Winner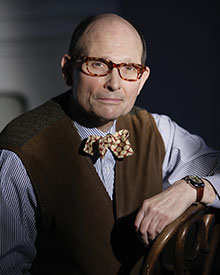 Michael Apuzzo, MD, for whom the new Michael L. J. Apuzzo Resident Literature Award for Creativity and Innovation was named
"Neurosurgery has been all about taking things out of the brain – removing tumors, aneurysms, AVMs – but the future is about restoration, getting function back into the brain. Tomorrow's neurosurgeons have to be more like engineers, because that's where the future is."