2018 Awards, Honors, and Accolades
You are here
2018 Awards, Honors, and Accolades
As we start off a new year, it's worth a moment to look back at what an amazing year we had in 2018. The following is a summary of the many accomplishments of our clinical faculty, research staff, and residents over the past year.
The 2018 list of "Best Doctors in New York" included Dr. Philip E. Stieg, Dr. Mark Souweidane, Dr. Roger Härtl, Dr. Eric Elowitz, and Dr. Theodore Schwartz. Three faculty members we share with Memorial Sloan Kettering were also named to the list: Dr. Mark Bilsky, Dr. Cameron Brennan, and Dr. Viviane Tabar. Four additional faculty members were named to the Castle Connolly list of Best Doctors in New York: Dr. Jeffrey Greenfield and Dr. Michael Kaplitt, Dr. Robert Snow at MSK, and Dr. Martin Zonenshayn at NYP Brooklyn Methodist. (See news item)
Babacar Cisse, MD, PhD, Leon Levy Research Fellow at the Feil Family Brain and Mind Research Institute, was named Leonard and Fleur Harlan Clinical Scholar. The award will allow Dr. Cisse to develop his brain tumor research laboratory, which focuses on the development and progression of gliomas.
Dr. Michael Kaplitt was awarded a $750,000 grant from the JPB Foundation to investigate gene therapy for Parkinson's disease. The grant supports studies examining mechanisms of vocalization dysfunction in animal models and possible ways to use gene therapy to reverse it, as well as studies examining potential pathways for spreading pathology from the gut to the brain and gene therapy approaches to prevent it. 
Resident Whitney Parker, MD, PhD, was awarded a Ruth L. Kirschstein National Research Service Award from the NIH for her research into NR2B, a component of neuronal signaling in brain development. Testing on animal models showed that NR2B's mutations resulted in epilepsy, but this had not been assessed in humans. Dr. Theodore Schwartz is advising on this research. (See news item)
Dr. Rohan Ramakrishna was awarded a $50,000 grant from the Glioblastoma Foundation to study MRI-guided focused ultrasound for subcortical gliomas. (See news item)

Rupa Juthani, MD, was selected by the AANS to receive the American Brain Tumor Association Young Investigator Award. Dr. Juthani's winning abstract is "Targeted Ultra-Small Nanoparticles as a Multi-Modal Platform for Enhanced Drug Delivery to Primary and Metastatic Brain Tumors."
Dr. Michael Kaplitt was awarded a $100,000 grant from the Michael J. Fox Foundation for "Magnetic Resonance-Guided Focused Ultrasound Gene Delivery for Neuroprotection in Parkinson's Disease." This grant supports an animal study testing the use of focused ultrasound to disrupt the blood-brain barrier to deliver new strains of gene therapy agents through simple IV injection.
Dr. Roberta Marongiu was awarded a research grant by the American Parkinson's Disease Association to investigate the role of menopause in the risk of developing the movement disorder. Dr. Marongiu's research will focus on menopause as a transition state in susceptibility to Parkinson's disease.
Dr. Rohan Ramakrishna was selected for the Leadership Education and Development (LEAD) program at NewYork-Presbyterian Hospital.
Dr. Jared Knopman delivered the invited "Hero of Neurosurgery" Plenary talk at the Congress of Neurosurgeons in Houston, Texas, for his work with MMA embolization for subdural hematomas.
In March, the North American Neuro-Ophthalmology Society awarded Dr. Athos Patsalides and Dr. David Dinkin the J. Lawton Smith Award for best original contribution of 2017 for "Venous Sinus Stenting in Idiopathic Intracranial Hypertension: Results of a Prospective Trial."
Dr. Philip E. Stieg delivered the New York Society for Neurosurgery's prestigious Charles Elsberg Lecture at the Knickerbocker Club. "Global Neurosurgery: A Neurosurgeon's Opportunity to Affect World Hope, Communication, and Health" focused on programs WCM neurosurgeons developed over the past two decades in underserved areas. (See news item)
Dr. Philip E. Stieg was awarded the Ellis Island Medal of Honor at a ceremony in the Great Hall. The award is given annually to exceptional individuals for outstanding contributions to their field. (See news item)
Dr. Mark Souweidane was selected by the NCI to serve as Neurological Surgery Special Expert on its Brain Malignancies Steering Committee (BMSC).
At the AANS annual meeting, Dr. Rohan Ramakrishna was named winner of the Preuss award for best basic science abstract as well as the Byron Cone Pevehouse Young Neurosurgeon Award for best socioeconomic abstract. (See news item)
Dr. Theodore Schwartz delivered the Robert M. Ellsworth Lecture in Ophthalmology, which honors the memory of this important figure in the development of treatments for retinoblastoma.
Dr. Susan Pannullo was honored at the 2018 annual meeting of the American Association of Neurological Surgeons for service on its Board of Directors as one of the few women in neurosurgical history to serve in this capacity.
Chief Resident Ibrahim Hussain, M.D., won the 2018 Stewart B. Dunsker, MD, Award for the top clinical spine abstract at the AANS annual meeting. He also won a 2018 Charles Kuntz Scholar Award for top abstracts on spinal disorders. (See news item)
Dr. Michael Kaplitt delivered the 18th Annual John Doppman Memorial Lecture for Imaging Sciences at the NIH in Bethesda, Maryland. Dr. Kaplitt spoke on "Focused Ultrasound as a Non-Invasive Mechanism to Improve Dysfunctional Brain Circuits in Neurological Disease." (See news item)
Dr. Philip Stieg was named to the New York State Athletic Commission, which oversees boxing, mixed martial arts, and other combative sports in New York. (See news item)
Dr. Theodore Schwartz, the David and Ursel Barnes Professor of Minimally Invasive Neurosurgery, was named chair of the editorial board for the Journal of Neurosurgery. (See news item)
Dr. Ali Baaj was selected to the Value and Safety Committee of the prestigious Scoliosis Research Society for the 2018-2019 term.
Dr. Susan Pannullo was awarded an NREF grant as faculty advisor to the WCM AANS Medical Student Chapter Neurosurgery Medical Student Training Camp.
Dr. Philip Stieg receives the Ellis Island Medal of Honor
Making the List: 2018's "Best Doctors in New York"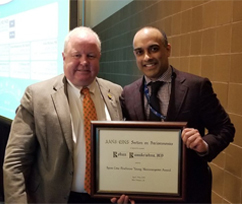 Dr. Rohan Ramakrishna receives the Byron Cone Pevehouse Young Neurosurgeon Award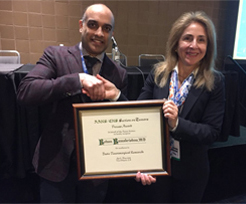 Dr. Ramakrishna receives the Preuss Award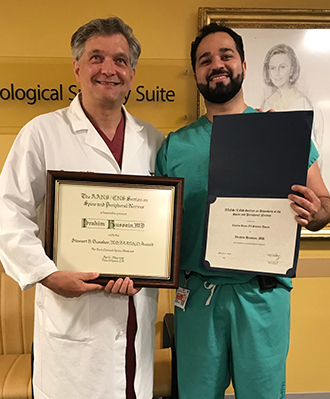 Dr. Härtl with Dr. Ibrahim Hussain, who won the Charles Kuntz IV Scholar Award for his research work

Drs. Dinkin & Patsalides' award for Best Original Contribution at the North American Neuro-Ophthalmology Society