DIPG: Diffuse Intrinsic Pontine Glioma
You are here
DIPG: Diffuse Intrinsic Pontine Glioma
DIPG, also referred to as pontine glioma, is a brainstem tumor that occurs almost exclusively in children under age 10. It affects several hundred children a year in the United States, but it's considered too rare for major research funding, so the prognosis has not improved in decades.
The Children's Brain Tumor Project at Weill Cornell Medicine Pediatric Brain and Spine Center has made DIPG research a priority by launching an innovative clinical trial testing convection-enhanced delivery (CED) of a therapeutic drug. The project is funded almost entirely by the families and communities of children diagnosed with the disease, who understand how critical it is to find answers. This site contains a wealth of information about DIPG, the clinical trial, and the Children's Brain Tumor Project:
NEWS: Dr. Souweidane Presents DIPG Trial Update at ASCO 2019
Dr. Souweidane's Phase 1 Clinical Trial Findings Published in Lancet Oncology
Dr. Souweidane Presents Clinical Trial Results at ASCO
Clinical Trial Update as of July 2017: We are currently recruiting additional patients on the Phase 1 study with further dose escalation. (Call 212-639-2336 for enrollment information.) Our concept for a multicenter study through the PBTC was recently approved by CTEP. This is a feasibility study. We are also submitting a Phase 1 study between MSKCC and UCSF for a different drug (Panobinostat) using CED in a similar fashion to what we have been doing.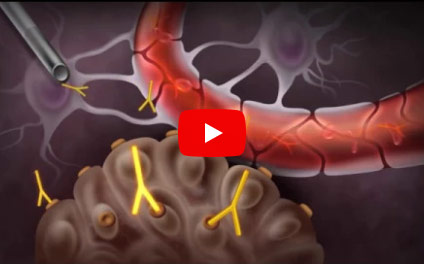 Published articles:
• Biomarker-based PET imaging in diffuse intrinsic pontine glioma mouse models
• Influence of an intratumoral cyst on drug distribution in convection-enhanced delivery: A case report
• Advances in Molecular Imaging of Locally Delivered Targeted Therapeutics for Central Nervous System Tumors
• Dual Inhibition of PI3K/AKT and MEK/ERK Pathways Induces Synergistic Antitumor Effects in Diffuse Intrinsic Pontine Glioma Cells
• A novel magnetic resonance imaging segmentation technique for determining diffuse intrinsic pontine glioma tumor volume
About DIPG
Basics of the tumor, how it progresses, and how it's treated
FAQs About DIPG
Answers to frequently asked questions about pontine glioma
Dr. Souweidane Extends His Clinical Trial for DIPG
A novel approach testing the safety of a new way to deliver tumor-fighting drugs
Dr. Souweidane's Blog Post: A New Beginning
Dr. Souweidane reflects on progress that's been made, and where we go from here
The Children's Brain Tumor Project
All about the research that's "powered by families"
More About DIPG
News, updates, and information about pontine gliomas and the search for a cure
Patient Stories:
Caitlin Downing
Cristian Rivera
NEWS! Dr. Souweidane's Phase 1 Clinical Trial Findings Published in Lancet Oncology
Children's Brain Tumor Project Newsletter
The quarterly CBTP newsletter provides research and family updates