The Weill Cornell Medicine Center for Comprehensive Spine Care offers integrated care provided by doctors specializing in back and neck care — all under one roof. The Center, located on the second floor of 240 East 59th Street (at Second Avenue), offers appointments with a comprehensive range of spine specialists — including pain management specialists, physiatrists, neurologists, and neurosurgeons.
Under the leadership of Dr. Roger Härtl, the state-of-the-art spine center allows those suffering from back pain to receive examinations, treatments, and continuing care in one convenient location. The only such facility of its kind in New York, the Center for Comprehensive Spine Care promises its patients relief not only from back pain, but also from the frustration of navigating the health care maze.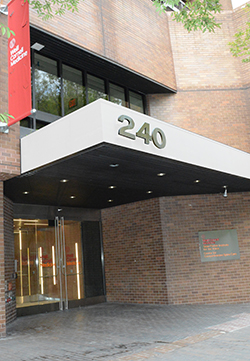 In this new paradigm for the delivery of spine care, a patient whose back pain requires almost any kind of therapy — injections, physical therapy, pain management – will be able to receive services in one comprehensive center. A patient who needs an evaluation by one of our neurosurgeons has access to that consultation on site as well. The five neurosurgeons of the Weill Cornell Medicine Brain and Spine Center who specialize in spine surgery – advanced minimally invasive spine techniques as well as reconstructive spine surgery – offer appointments at the new facility. Dr. Härtl is joined by Dr. Eric Elowitz, Dr. Kai-Ming Fu, and Dr. Michael Virk in offering surgical consultations and pre-operative visits. Patients requiring surgery will have those procedures done at the Weill Cornell Medicine campus of NewYork-Presbyterian Hospital, ranked by US News & World Report as the #1 hospital in New York for 19 years in a row.
For more information, visit the Center for Comprehensive Spine Care web site.
To request an appointment, please call 1-888-WC-BACKS (1-888-922-2257).