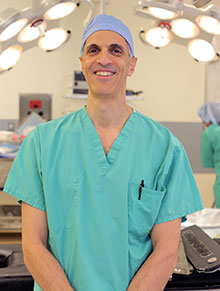 How do you feel? I can't tell you how many people have asked me that recently, now that we have published the culmination of years and years of work. Embodied in the results of my Phase I clinical trial are multiple grants, kind donations, unending lab projects, thousands of emails, meeting presentations, many sleepless nights, and so much time away from my own family and two young boys. I'm not sure how to answer: I'm equal parts overjoyed, proud, exhausted – and overwhelmed by the thought my quest is not finished. I have never felt more optimistic, and I find myself at the threshold of something very meaningful. Mostly I'm feeling determined to keep going, to get to the next level, and to get my hands on a real cure for this killer.
My trial tested the safety of convection-enhanced delivery (CED) in children with diffuse intrinsic pontine glioma (DIPG). Over five years, I led the team at Memorial Sloan Kettering (MSK) as we infused 28 children with increasingly large doses of a radioactive drug we hoped would reach the tumor efficiently, saturate it completely, then clear the child's body without doing it any harm. More than six years after I got FDA approval to start the trial (and nearly two decades after I first hypothesized that CED was a good fit for DIPG) I can sit here today and say that my intuition was right. The accomplishment feels terrific.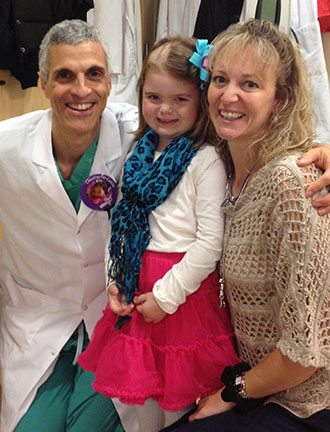 Caitlin Downing was the first child treated in the clinical trial, on May 1, 2012. I will be forever thankful to her, and to her parents for entrusting her to me.
In my mind, however, I forever remember the faces of each of the children and more vividly their yearning parents whom I have been fortunate to have met over the years. Desperate for a chance – any chance – to save that precious young life, they put their trust in me and consented to participate in an unproven clinical trial. The hope in that act alone is unimaginable to us as parents who have never had to face our own child's mortality. I hope my efforts and this contribution to the field offers them some satisfaction now (if such a thing is possible) to know that their child was a part of something so important.
Long before the results of this trial were published, I started working on the next steps. Within the coming months we'll be treating more children with different drugs – drugs that have shown promise against DIPG cell lines in the lab and that must now be tested in actual children. But this time it's not going to be just my MSK team and me working on this. We'll be testing CED in multiple sites across the country, in an unprecedented collaboration among fellow scientists and clinicians. We are witnessing a groundswell of determination to change the course of this disease.
Listen to this plea and join forces! I feel supercharged – to get to the next step. I am so proud of the clinical and research teams that worked so tirelessly with me on this, and the families that provided the financial and emotional support along the way. I can confidently say that we have more reason to hope than we had six years ago.
See news item about the paper: Dr. Souweidane's Phase 1 Trial Findings Published in Lancet Oncology
Consider making a donation to support the expansion of Dr. Souweidane's trial nationwide.
Read More at MSKCC.ORG: Drug Delivery Approach Shows Promise for Treating Deadly Brain Tumor in Children