There are few bright spots in the global pandemic, but one of them is the development of new ways to reach out using new technology. Since the spring of 2020 we have been bringing our world-class team of faculty members closer to patients, families, colleagues, and the community through our webinars. Please join us for any one of these regular series, or watch the archived videos of episodes you've missed on our YouTube channel. All sessions are free, but all require advance registration for each session.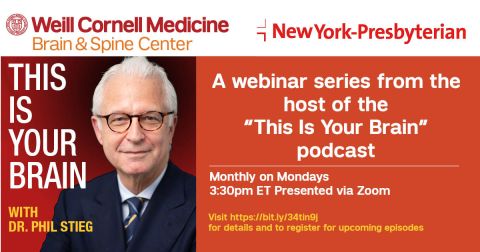 Dr. Philip E. Stieg, host of This Is Your Brain, the podcast, now hosts a monthly webinar series that examines a wide range of issues in brain health and brain conditions. On his own, with patients, or with guest hosts, Dr. Stieg tells you what you need to know to protect your brain.
Discover This Is Your Brain, the podcast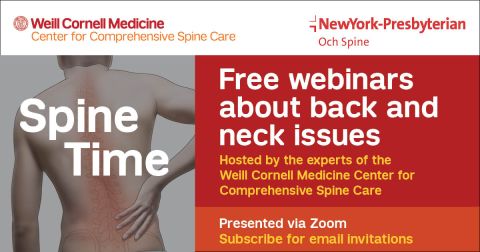 From the multidisciplinary team at the Weill Cornell Medicine Center for Comprehensive Spine Care comes this popular series on back and neck issues. Every other Wednesday, our experts from neurosurgery, neurology, pain medicine, and rehabilitation medicine host an informative and interactive session on all things spine. Sign up for the mailing list to be notified of upcoming episodes and to receive the Zoom links for each.
House Calls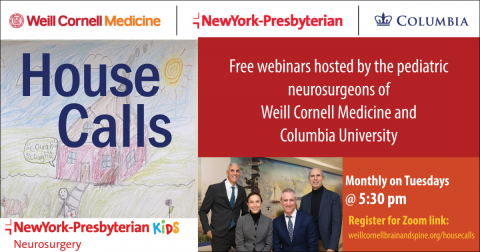 The pediatric neurosurgeons of Weill Cornell Medicine and Columbia University are now a single team, with a combined service offering the very best in compassionate care for young patients. Each of these episodes featured one of the neurosurgeons talking about a specific condition or procedure of interest to pediatric patients, families, pediatricians, and other neurosurgeons.