CREST (Carotid Revascularization Endarterectomy vs. Stenting) Trial
You are here
CREST (Carotid Revascularization Endarterectomy vs. Stenting) Trial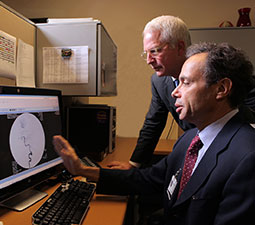 This study is ongoing, but no longer recruiting patients.
The primary aim of the Carotid Revascularization Endarterectomy vs Stenting Trial (CREST) is to contrast the relative effectiveness of carotid artery stenting (CAS) versus carotid endarterectomy (CEA) in preventing stroke, myocardial infarction, and death. Stents are medical devices approved and commonly used for treatment of heart disease. The stent that will be used in this trial is the RX (Rapid Exchange) ACCULINK™ Carotid Stent System, an elastic-like metal scaffold that is expanded inside a carotid artery to hold the vessel open.
This is a prospective, multi-centered, NIH-funded trial to compare the results of treating carotid stenosis with either carotid endarterectomy or carotid stenting.
For more information, see the details about this trial on clinicaltrials.gov