Venous Sinus Stenting in Patients with Refractory Idiopathic Intracranial Hypertension (IIH)
You are here
Venous Sinus Stenting in Patients with Refractory Idiopathic Intracranial Hypertension (IIH)
There are many patients with Idiopathic Intracranial Hypertension (IIH), also known as pseudotumor cerebri, who do not respond to available treatments or experience medication-related side effects that affect their quality of life. Existing surgical treatments pose risks of side effects or treatment failure in some patients. At the departments of Neurological Surgery, Neurology and Neuroscience, and Ophthalmology, we are dedicated to seeking new therapies to help patients with IIH control their symptoms and preserve vision. (More about Pseudotumor Cerebri.)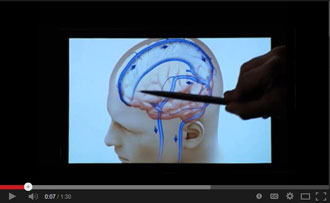 A new clinical trial aims to evaluate the safety and efficacy of venous sinus stenting in patients with refractory IIH and significant venous sinus stenosis.
Watch the videos on this page, then click for more details and illustrations about the trial. 


NOTE: The clinical trial has concluded, and the results published in the Journal of Neuroophthalmology. See the abstract here.
Contacts: Athos Patsalides, M.D., MPH
Assistant Professor of Neurological Surgery
(212) 746-2821
Marc Dinkin, MD
Assistant Professor of Ophthalmology
(646) 962-2020