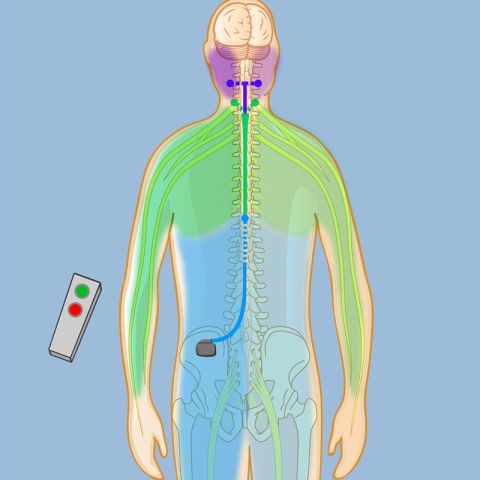 Spinal cord stimulators (SCS) are permanently but reversible implanted devices that deliver electrical pulses to the spinal cord, much like a pacemaker does for the heart. Those pulses interrupt pain signals from the spinal cord to the brain and reduce painful sensations. The technology was developed in the 1960s but in the past decade it has become highly effective in the treatment of pain. In 2015, the first high-frequency SCS device was approved by the FDA and has become a mainstay of treatment options at Weill Cornell Medicine. (Find out more about this SCS device.)
SCS is a safe and effective approach for managing chronic pain of the neck, back, arms, and legs (including pain that continues even after spine surgery), or for other neuropathic conditions. Recent advances suggest uses for SCS in the treatment of pelvic pain, non-cardiac chest/angina pain, and chronic abdominal pain not due to inflammatory bowel disease. Finally, studies are showing improved blood flow following spinal cord stimulation for patients with peripheral vascular disease.
Weill Cornell Medicine Pain Management and Neurosurgery were involved in the research for spinal cord stimulation usage in the treatment of painful diabetic neuropathy (PDN). The results of this research has led to a new FDA approved treatment. (See our 2021 paper on that clinical trial here.)
Unlike most interventional therapies, spinal cord stimulators can be placed on a trial basis, allowing a patient to try a temporary stimulator at home for five to seven days before deciding whether to undergo the permanent implantation. This allows a patient to know the level of pain relief to expect if a permanent stimulator were placed.
Benefits of SCS may include:
Significant and sustained reduction in back and extremity pain
Improved ability to function and participate in activities of daily living
Reduced dosage of oral pain medications
Ability to adjust the stimulator based on pain level

As an added benefit, an individual whose pain is well controlled by spinal cord stimulation then has the potential ability to participate in other forms of pain management therapy, which they could not do while suffering debilitating pain.
Watch: A patient in seemingly intractable pain gets relief from high-frequency SRS:
Reviewed by Neel Mehta, M.D.
Last reviewed/last updated: September 2021
Illustration by Thom Graves, CMI