Craniopharyngiomas
You are here
Surgery for a Craniopharyngioma
Surgery for a Craniopharyngioma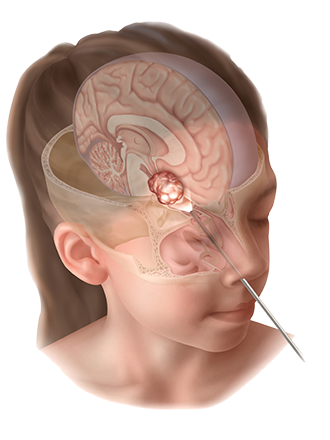 The goal of surgery for a craniopharyngioma is to remove as much of the tumor as possible without damaging nearby structures or causing neurological damage. Surgery is complicated by the way tumor invades healthy brain tissue — removing the entire tumor may cause permanent damage, but leaving some of the tumor behind increases the risk of the tumor's recurrence.
The surgery may be open surgery, in which a neurosurgeon removes a portion of the skull to gain access to the tumor, or a less invasive endoscopic surgery, in which the surgeon approaches the tumor through the nose. Whether or not the patient is a good candidate for minimally invasive "endonasal" surgery depends on the location and size of the tumor as well as the experience and skill of the neurosurgeon.  In some situations an endoscopic surgery can be done through a small bur hole at the top of the head to drain large cysts, sometimes associated with craniopharyngiomas. Neurosurgeons with advanced training in endoscopic techniques are best qualified to perform these procedures. (Read more about our minimally invasive Skull Base Surgery Program.)
If the tumor cannot be completely removed during surgery, the patient may have radiation therapy as a follow-up to kill off any remaining tumor cells to help prevent recurrence. Radiation is known to have long-term effects on growth and development, so it is not the best choice for children (although it may sometimes be necessary).
Some craniopharyngiomas may be treated using stereotactic radiosurgery (SRS). Commonly known as Gamma Knife or CyberKnife, stereotactic radiosurgery is not surgery in the conventional sense, but rather uses highly focused beams of radiation to destroy the tumor. (Read more about our Stereotactic Radiosurgery Program.)
If the tumor can be completely removed, the chances of a complete cure are very good. Patients may need long-term hormone treatments after surgery, but most return to full and active lives after treatment. In some cases, there will be some neurological deficits caused by the tumor or by the surgery to remove it.
Since craniopharyngiomas may regrow after treatment, patients will have ongoing MRI or CT scans to watch for the tumor's return. If there is a recurrence, it's most likely to happen in the first two years after surgery.
A craniopharyngioma is a complicated tumor that is best treated at a major medical center by a neurosurgeon with advanced skills and experience in treating craniopharyngiomas (See Doctors Who Treat Craniopharyngiomas).
Request an Appointment | Refer a Patient
Reviewed by: Jeffrey Greenfield, M.D., Ph.D., and
Theodore Schwartz, M.D.
Last reviewed/last updated: August 2018
Illustration by Matt Holt