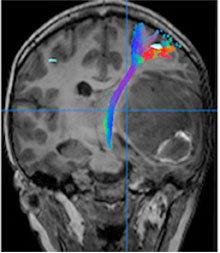 Patients being treated for cancers elsewhere in the body (most commonly breast, lung, skin, colon, and kidney cancers) who develop neurological symptoms should be evaluated for metastasis. (See Symptoms of Metastatic Brain Tumors.) Brain tumors are most likely to be found on MRI or CT scans.
In most cases, a patient is already being treated for the primary cancer when the metastatic tumor is found. In some cases, however, the primary cancer had not yet been diagnosed when a brain tumor is discovered (either incidentally on a scan for another reason or found on a scan done to investigate neurological symptoms).
Some tumors may be accessible to a neurosurgeon, who may remove the tumor to both confirm the diagnosis and relieve symptoms. A definitive diagnosis will help the medical team develop a comprehensive treatment plan for that individual patient. Moreover, tissue obtained from the surgery can be used for precision oncology where genetic sequencing of tumors is utilized for treatment optimization.
Metastatic brain tumors may be treated with surgery, radiation, or chemotherapy, depending on factors including the location and size of the tumor(s), the age and overall health of the patient, and the prospects for a high quality of life after treatment.
Chemotherapy may be beneficial in patients with brain metastases, especially in the era of immunotherapy. Research is ongoing but chemotherapy will likely remain an important part of the treatment paradigm in patients with brain and spine metastases.
Radiation may be delivered to the entire brain in those cases where there are multiple tumors, but whole-brain radiation has been associated with cognitive side effects. The more targeted procedure known as radiosurgery allows a specialist to deliver precise beams of radiation to a tumor that's deep in the brain, or located in an area that's susceptible to damage from surgery, with a greatly reduced risk of cognitive damage when compared with whole-brain radiation.
Some metastatic brain tumors may be removed surgically. This surgery, called resection, is often a good option for a patient whose primary cancer is well managed and whose tumor can be removed safely.
Since patients with metastatic brain tumors have complicated medical and emotional needs, it's important that the treatment plan take a holistic approach and include a wide variety of therapies and support services.
Reviewed by: Rohan Ramakrishna, MD
Last reviewed: December 2020