Retinoblastoma is a malignant tumor that develops in the retina, which is the part of the eye responsible for detecting information about light and color and transmitting it to the brain through the optic nerve. Retinoblastoma usually occurs in very young children and can affect one or both eyes. Although it is a rare tumor, affecting about 350 children a year in the United States, retinoblastoma is the most common eye cancer in children. It occurs equally in boys and girls. Retinoblastoma may consist of one tumor, or several.
When it is detected early and has not spread, retinoblastoma is very curable in the United States today, with about a 95 percent success rate. For years the standard lifesaving treatment was enucleation, or the removal of the eye. Today new treatment methods, including the
intra-arterial chemotherapy for retinoblastoma
pioneered by
Dr. Y. Pierre Gobin
, director of interventional neuroradiology at the Weill Cornell Brain and Spine Center, and Dr. David Abramson, chief of the ophthalmic oncology service at Memorial Sloan-Kettering, can not only save eyes but also allow children to maintain vision.
In 2005 retinoblastoma made national news when Utah Jazz basketball player Derek Fisher brought his 10-month-old daughter, Tatum, to Drs. Gobin and Abramson for their eye-preserving treatment of her retinoblastoma. After the successful procedure, an effusive Fisher talked on television about the condition and the groundbreaking new treatment that had saved his daughter's life, eye, and vision. Since that time, Dr. Gobin and Dr. Abramson have performed the procedure more than 1,800 times, earning the gratitude of patients and their parents. (More about intra-arterial chemotherapy for retinoblastoma.)
What Causes Retinoblastoma?
In about half of all cases the tumor is caused by a genetic abnormality that affects cell division in the retina. It is not clear what causes the chromosomal abnormality. In the other half of patients with retinoblastoma there is no known cause.
Dr. Y. Pierre Gobin: Aneurysms, AVMs, Stroke, and Retinoblastoma
Our Care Team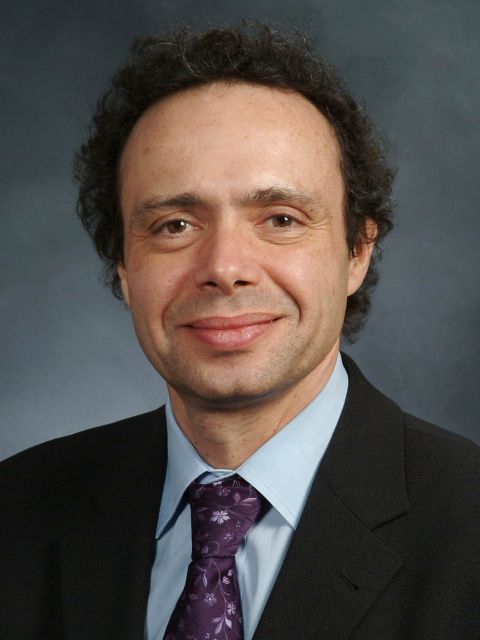 Professor of Radiology in Neurological Surgery
Reviewed by: Y. Pierre Gobin, MD
Last reviewed/last updated: September 2020