Continuing Medical Education
You are here
Continuing Medical Education
The Weill Cornell Brain and Spine Center is committed to education — not only for medical students and residents but also for other physicians and neurosurgeons worldwide. Our Continuing Medical Education courses cover research updates as well as state-of-the-art techniques in minimally invasive brain and spine surgery, transnasal approaches to skull base surgery,  and other endoscopic surgical procedures.
See the current list of upcoming courses, events, and patient seminars.
In addition to a full calendar of Grand Rounds, we present several ongoing courses each year:
SPRING COURSES
Principles and Techniques of Complex Spinal Reconstruction is a one-day CME workshop—part didactic, part hands-on—that reviews the most common complex spine techniques used in contemporary spine surgery. Participants will have ample time to familiarize themselves with the techniques and review the relevant anatomy on cadavers. The course is directed by Ali A. Baaj, MD. See photos from our 2019 course
Minimally Invasive Cranial Neurosurgery: Recent Technical Advances With Hands-On Laboratory is an expansion of the earlier "Advanced Endoscopic Skull Base and Pituitary Surgery: Hands-on Symposium," long directed by Theodore H. Schwartz, M.D. and Vijay K. Anand, M.D. This expanded course now covers not only endoscopic skull base surgery but also multiple other minimally invasive approaches to neurosurgery, combining didactic sessions with hands-on cadaver dissection, as well as panel discussions. Instruments (for tubular, keyhole, endoscopic, and other MIS approaches) as well as surgical navigation equipment will be available to participants for use on fresh cadavers during laboratory sessions. The course directors are Theodore H. Schwartz, M.D. and Mark M. Souweidane, M.D. 
FALL COURSES
Annual Pituitary Symposium
This course is a comprehensive overview and discussion of the evaluation; management; and medical, surgical, and radiation treatments of the pituitary tumor. The conference will comprise lectures, case-based talks, and Q & A panel sessions. Each year takes a different approach to the topic.  Registration for 2019 course now open
NYC-MISS: Minimally Invasive Spinal Surgery and Navigation Hands-on Symposium, now in its 13th year, provides a comprehensive overview of the latest in minimally invasive techniques (with and without stereotactic navigation) for the operative treatment of spinal disorders. Practical sessions allow participants to apply the latest spinal techniques, including spinal navigation, in cadavers. This annual course is directed by Roger Härtl, M.D. See the full agenda, fees, and faculty fof this year's course (December 12-14, 2019) REGISTRATION NOW OPEN
MULTIPLE OFFERINGS
Complex Surgical Approaches to the Skull Base is a hands-on cadaver workshop with three-dimensional virtual reality workstations. This course takes place in our state-of-the-art Surgical Innovations Laboratory and is directed by Neurosurgeon-in-Chief Philip E. Stieg, M.D., Ph.D., and Antonio Bernardo, M.D. For more information, email skullbasecourses@med.cornell.edu.
In addition to these annual CME courses, the Weill Cornell Brain and Spine Center offers a variety of one-time courses and other non-CME events.
See the schedule of upcoming CME courses and other events
See schedule of conferences, and meetings for faculty, residents, and fellows.
Would you like to hear about upcoming CME courses and other events? Sign up for our email list. We will not send you spam; we will send only emails (a few times a year) letting you know about our educational offerings.
See the schedule of upcoming CME courses and other events, with links to online registration.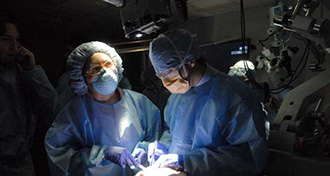 Weill Cornell Medical College is accredited by the Accreditation Council for Continuing Medical Education (ACCME) to provide Continuing Medical Education (CME) credit for programs that are developed by Weill Cornell faculty as part of the medical school's overall program of CME. All applications therefore must meet both Weill Cornell and ACCME guidelines for CME activities. The Office of CME is available to answer questions and assist with aspects of both conference/course planning and the CME application procedure. Questions should be directed to Ms. Juliet Singh-Doncell, Administrator for CME at (212) 746-2631.