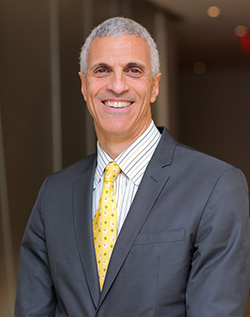 Thursday, September 8, 2016 - 19:30
This morning I did something I'd done 30 previous times over the past four years: I inserted a tiny catheter into a child's brain to infuse an obscure combination of an antibody and a radioactive substance. This time was different, though. This was the 31st and final infusion in my Phase 1 clinical trial of convection-enhanced delivery (CED) for the deadly brain tumor DIPG.
As I prepared to perform this procedure, I couldn't help but think back over all those other children — every one of them an innocent little hero in the fight against DIPG, each one stricken with this tumor for no apparent reason other than random chance. I thought about the very first patient in the trial, whose parents were brave enough to entrust her to my care for this new procedure, and about the joy I felt immediately after her surgery, when I saw her laughing and talking, neurologically normal after the infusion. As confident as I had been before the surgery that this was safe, having that little girl smiling up at me was a tremendous relief and vote of confidence to push forward with a concept that made sense.
I also thought about the 15-plus years before I'd treated that first child, years that I spent preparing for this trial. The number of experiments, lab meetings, solicitations for funding, and days at the bench now seem endless. Twenty years ago I never would have guessed the total effort that would be needed to convince myself and regulators that the experimental approach would be safe. And at the end of 2011, when I received word that the FDA had approved the trial, I didn't think it would be 2016 before it was complete. To say that it's been a long road would be quite an understatement.
It has not been easy. The technical hurdles to this procedure were many, and I was grateful to have so much support from my colleagues at Memorial Sloan Kettering as we confronted issues and resolved them. Selecting patients was heartbreaking, with many families turned away for each child entered into the study, but for the results to be meaningful it was critical that we adhere to the parameters of the trial. Still, telling parents that I couldn't admit their child into the trial was one of the most painful aspects of this entire project.
I cannot overstate how important this moment is. The data gathered from this trial will not only establish the safety of this procedure in children but will also provide a treasure trove of measurements and results that will drive the next steps — how much of the drug made it into the tumor and how long did it stay there, what percentage of the tumor was exposed to the drug, and what are the best ways to image and measure our results? These are all questions that we should be able to answer now that this first phase of the trial is over. I can confidently make the claim that we now move this therapeutic strategy from a question of feasibility to one of optimization.
Thankfully, having a lab team in the Children's Brain Tumor Project has allowed me to start preparing for the next steps even as I've been working on this trial. This time I don't have to spend years doing all the pre-clinical work required for a clinical trial — that work is already underway in the lab. Researchers are growing DIPG cell lines, testing different drugs and drug combinations against the tumor in both petri dishes and in animal models, gathering the data we'll need to launch the next iteration of the trial.
My team and I will spend the coming months analyzing data and preparing the results of this trial for publication, but we'll be simultaneously preparing for our next steps. So as I looked down at that beautiful little child on the operating room table this morning, I knew this was the end of this trial and the end of a very important stage in advancing the science. Simply stated, this is not the end of a journey but the beginning of an exciting voyage that has newfound clarity
I thank each parent and child for their belief and combined enthusiasm for not accepting the status quo.
See the news report about the end of the trial