Endoscopic and Open Surgical Approaches for Craniosynostosis: A Hands-On Practical Course
You are here
Endoscopic and Open Surgical Approaches for Craniosynostosis: A Hands-On Practical Course
This unique symposium combines classroom instruction with hands‐on practice using state‐of the‐art 3D models created from scans of actual patients.
Join our mailing list to be notified when the 2020 course opens for registration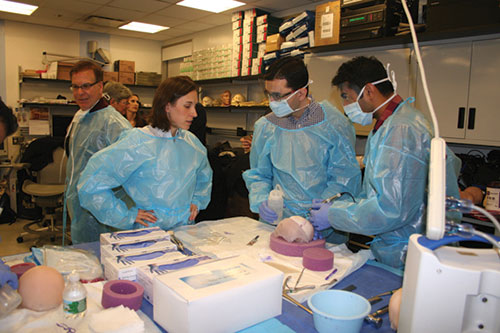 The workshop will provide hands‐on experience performing fronto‐orbital advancement for the repair of unilateral coronal synostosis and advanced endoscopic techniques for the repair of metopic and sagittal craniosynostosis. Attire is casual. Scrubs are acceptable, but will not be provided, so please bring or wear your own if you'd like. Protective gowns will be supplied.
Course Directors:
Caitlin Hoffman, MD
Thomas Imahiyerobo, MD