Medical Student Neurosurgery Training Camp 2019
You are here
Medical Student Neurosurgery Training Camp 2019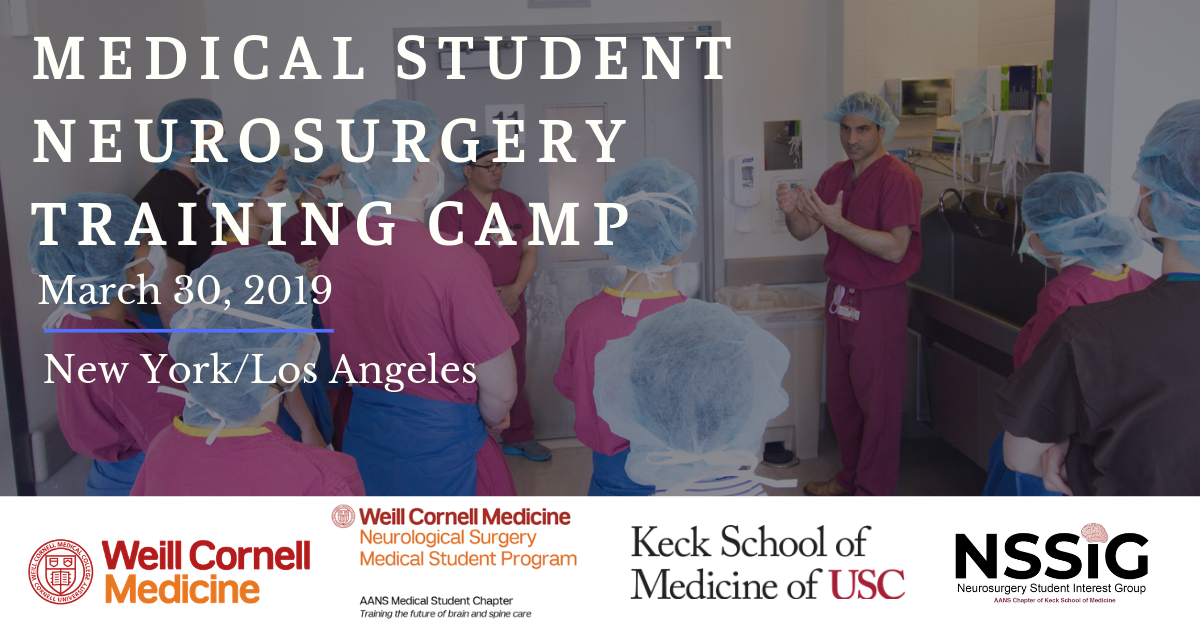 The AANS Medical Student Chapters and Departments of Neurological Surgery at Weill Cornell Medicine and Keck Medicine of USC invite you to participate in a one-day event for medical students (from any medical school) considering specialization in neurological surgery. This is a unique opportunity for students to learn from faculty and current residents.
After the huge success of the 2018 Medical Student Training Camp, we are excited to announce TWO locations for the 2019 event. This year, the course will be held on March 30, 2019, at Weill Cornell Medicine and Keck School of Medicine of USC. Please note that the training camp will take place from 8 am to 3 pm local time. 
This is a hands-on experience intended to prepare medical students for neurosurgical sub-internship, residency application, and neurosurgical training. Through didactics and laboratory training sessions, students participating in this course will be highly prepared for neurosurgical sub-internship. This course is intended for medical students at any stage of their training. There is no fee to RSVP for this event, however a $20.00 USD payment will be required to confirm your final registration. Space is limited, and reservations will be accepted on a first-come, first-serve basis. That being said, we are working to accommodate as many students as possible and ensure spots for all students starting sub-internships in 2019.
The 2019 Medical Student Neurosurgery Training Camp is going to be an incredible day of learning, career exploration, and networking - we hope to see you all there!
See the agenda and photos from the 2018 inaugural event,or watch the video below.