Unequal Care: Causes and Solutions for Surgical Disparities in 2018
You are here
Unequal Care: Causes and Solutions for Surgical Disparities in 2018
Adil Haider, MD, MPH, FACS, the Kessler Director of the Center for Surgery and Public Health at Brigham and Women's Hospital Harvard Medical School, kicked off Weill Cornell Medicine's first-ever Diversity Week with this special Grand Rounds. Dr. Haider presented surprising data that showed a disparity in outcomes among white, black, and Hispanic trauma patients nationwide, and disparities between insured and uninsured patients. (See Dr. Haider's publications on these topics.)
This Grand Rounds was a joint presentation of the Departments of Surgery and Neurological Surgery in honor of Diversity Week, which was organized by the Weill Cornell Medicine Office of Diversity and Inclusion. Dr. Haider's visit was arranged by Dr. Caitlin Hoffman, who manages diversity efforts for the Department of Neurological Surgery. Surgeon-in-Chief Fabrizio Michelassi, MD, introduced Dr. Haider and joined him for questions and answers after the talk.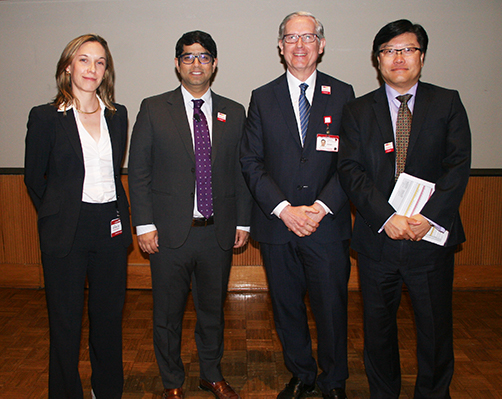 Dr. Caitlin Hoffman, Dr. Adil Haider, and Dr. Fabrizio Michelassi along with Dr. Augustine M.K. Choi, the Stephen and Suzanne Weiss Dean of Weill Cornell Medicine and provost for medical affairs of Cornell University.
Dr. Haider, the Kessler Director for the Center for Surgery and Public Health (CSPH), a joint initiative of Brigham and Women's Hospital, Harvard Medical School, and the Harvard T.H. Chan School of Public Health, is a nationally recognized expert in disparities in health care. His research topics have included disparities after traumatic injury as well as unequal outcomes based on gender, race, sexual orientation, ethnicity, age and socioeconomic status. Dr. Haider's professional goal is to eradicate disparities in healthcare in the United States.