Eric H. Elowitz, M.D.
You are here
Dr. Elowitz is a board-certified neurosurgeon specializing in minimally invasive spinal surgery. His primary focus is on the surgical treatment of degenerative spinal disorders, including disc herniation, lumbar spondylolisthesis, and cervical myelopathy. Dr. Elowitz was previously the co-director of the Minimally Invasive Spine Center at Roosevelt Hospital. In January 2010 he joined the Weill Cornell Brain and Spine Center, where he continues to help advance the field of minimally invasive spinal surgery.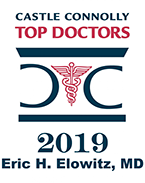 TRAINING
Dr. Elowitz obtained his medical degree from SUNY/Downstate Brooklyn in 1986, graduating summa cum laude. Following completion of his neurosurgical residency and chief residency at SUNY/Downstate, Dr. Elowitz joined Beth Israel Medical Center, where he later served as Director of Neurosurgery.
"No More Pain in the Neck" - A Patient's Story
RESEARCH
Dr. Elowitz has an active interest in clinical research relating to outcome studies of newer, minimally invasive surgical techniques. He has presented papers and written chapters on the lateral approach for spinal fusions and is a recognized expert in this area. In 2018 he was named Vice Chairman for Quality and Patient Safety in the Weill Cornell Medicine Department of Neurological Surgery. Dr. Elowitz is also a prior recipient of the Young Investigator Award from the Section on Tumors of the American Association of Neurological Surgeons.