Philip E. Stieg, Ph.D., M.D.
You are here
Philip E. Stieg, Ph.D., M.D.
Dr. Philip Stieg is a world-renowned neurosurgeon with expertise in cerebrovascular disorders and skull base surgery. He is the chairman and founder of the Weill Cornell Medicine Brain and Spine Center, the leading neuroscience patient care center in New York City. In 2010 Dr. Stieg launched the Weill Cornell Surgical Innovations Lab, the first global multimedia neurosurgical teaching facility in the world.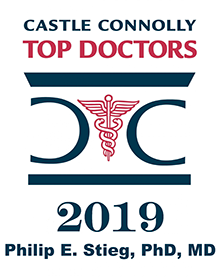 Dr. Stieg is a widely published author and internationally known lecturer, and is routinely named by Castle Connolly Medical as one of the nation's Top Doctors. Dr. Stieg is frequently featured in the media for his expertise and commentary on breaking news in healthcare, and he was the creator and host of the successful NPR radio show "How to Save Your Life." Dr. Stieg is also one of the editors of the definitive textbook on AVMs, Intracranial Arteriovenous Malformations. He is a past president of the Brain Tumor Foundation and the New York board of the American Heart Association. He is also a past Chairman of the Congress of Neurological Surgeons (AANS/CNS) and former President of the Society of University Neurosurgeons in addition to serving as an advisor to the Defense Department on brain injury. Dr. Stieg is board-certified in Neurological Surgery.
Dr. Stieg's new podcast, This Is Your Brain, provides engaging conversations with experts and patients about how the brain works, what can go wrong, and how to meet the challenges of brain disorders. Sample the podcast below, then subscribe on iTunes, Google Play, Spotify, or wherever you get your podcasts. Visit drphilstieg.com for more information.
More about Dr. Stieg
Patient Stories
"I Am Alive"
"They Wouldn't Let Me Quit"

Blog Posts
Information Overload
Keeping Your Brain Healthy During the Pandemic
256 Ways to Be Depressed (and Finding a Path Out of It)
7 Ways to Reduce the Risk of Alzheimer's
Solving Brain Bleeds in the Elderly
TRAINING
Dr. Stieg received his B.S. degree from the University of Wisconsin at Madison (1974), his Ph.D. in Anatomy and Neuroscience from Union University (1980), and his M.D. from the Medical College of Wisconsin in 1983. He trained at the University of Texas Southwestern Medical School (Parkland Memorial Hospital) with Drs. Duke Samson and Hunt Batjer after completing a fellowship in cell transplantation for restorative neurological function at the Karolinska Institute in Stockholm, Sweden. Dr. Stieg joined the faculty of the Harvard Medical School, Brigham and Women's Hospital, and Children's Hospital of Boston in 1989, after completing his postgraduate training.
RESEARCH
Dr. Stieg's research interests include cerebral protection as well as restorative function. He is also interested in neural transplantation and neuronal regeneration after stroke. His initial studies focused on understanding the mechanisms of injury in the central nervous system after trauma. His laboratory was one of the first to develop and characterize primary cultures of astroglial cells. Dr. Stieg's expertise in cerebrovascular disorders combines with his research interests in stem cell biology and cerebral transplantation for restoring neurological function. Dr. Stieg has implemented a multifaceted approach to the management of neurosurgical disorders such as carotid artery disease, vascular malformations, aneurysms, epilepsy, brain tumors, trauma, pediatric disorders, spinal cord problems, and functional diseases, including Parkinson's disease.
Request an Appointment | Refer a Patient
Find out more about the Department of Neurosurgery, including its Neurosurgery Residency Program, Fellowship Opportunities, CME Courses, and Research.