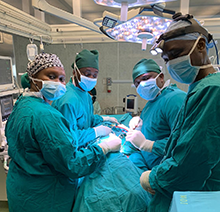 Friday, January 24, 2020 - 12:30
I came across the Weill Cornell Medicine Global Health Neurosurgery Fellowship by pure chance one evening last year in London, when I typed "global neurosurgery" into a search engine. I emailed Dr. Härtl immediately, attaching my CV and asking about the possibility of my being his fellow in Tanzania. Although it was a Sunday evening, Dr. Härtl responded within just two hours and we set up a date for an informal Skype interview.
From the moment we first spoke, it has been clear that Dr. Härtl has a great commitment to the collaboration between Weill Cornell and the Muhimbili Orthopaedic Institute (MOI). He introduced me to previous fellows (Maria Santos, Albert Lazaro, and Andreas Leidinger), who spoke highly of the fellowship – particularly the welcoming nature of the Tanzanian doctors and the opportunity to learn so much about global neurosurgery. The same was echoed by the fellow who was in Tanzania at the time, Scott Zuckerman, whom I had the privilege of working alongside for several months.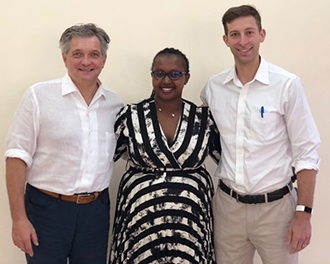 I arrived in Tanzania in October 2019 and quickly realized I would need to adjust to my new role. I found the lines to have blurred: Am I at home here, or a visitor? I was raised in Kenya before pursuing my medical degree at the University of Southampton in the U.K., where I completed a neurosurgery residency in the South London rotation. I had just completed a skull base fellowship in Cardiff, Wales, when I was attracted to the Global Health fellowship. So now I am back in Africa, although not in my home country. For me this has been akin to an American who received medical training in France "coming home" to work in Canada.
I do speak Kiswahili, which allows me to converse with the patients and staff (although I have a distinct Kenyan accent). Still, I have much to learn about Tanzania. The country has a population of 58.6 million people in an area twice the size of California, and it has 17 neurosurgeons and six neurosurgery centers. That is a big improvement over the past decade, but patients must still travel long distances to reach a neurosurgeon. With no structured ambulance or retrieval service here, patients typically must use public transportation to reach a hospital with neurosurgical services.
Tanzania has a largely agrarian economy, with most of its population in informal employment. The median per capita income is $1,050 a year, and only 30 percent of the population has insurance. Even those who are insured often don't have enough coverage for neurosurgery. This means MOI – the largest and oldest neurosurgical center in the country, which receives the most complex cases, who often present in advanced stages of disease – often provides much-needed care on a charitable basis, which in turn limits the institute's ability to make capital and infrastructure improvements.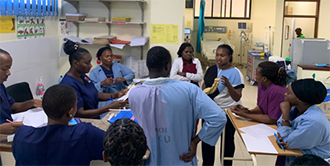 MOI is currently the primary provider of neurosurgical training in Tanzania, and its attending surgeons are important mentors to the surgeons posted to new units that are being established. We rely on private donations to fund service development, training, and patient care.  Those donations also support the annual Hands-on Neurosurgery, Neurotrauma and Critical Care Course, which provide crucial training for local providers. (Download the latest Tanzania newsletter to find out more about the sixth annual course, held in November 2019, with 166 delegates and faculty from 13 countries.)
I'm fortunate that the Weill Cornell-MOI collaboration is a well-established program, with a good support structure for the fellow on the ground. This has turned out to be a very important part of my acclimatizing to a new medical environment and culture, with constant local support from Drs. Shabani, Lemery, and Rutabasibwa. Dr. Härtl and Dr. Halinder Mangat at Weill Cornell in New York remain excellent mentors and are readily available, regardless of time of day, even over the weekend, to offer guidance, practical support, and oversight of my work here in MOI.
I was also fortunate to have the opportunity to work alongside previous Global Neurosurgery fellows Dr. Scott Zuckerman, whose time in Tanzania overlapped mine, and Dr. Albert Lazaro, who has decided to stay at MOI full time. Together we ran the weekly Skype call with Dr. Härtl in New York, which is frequently joined by health professionals in other countries who provide their time and expertise. In just a few short months I have had broad exposure to spine and cranial surgery as well as general neurosurgery clinics with extensive pathologies in the adult and pediatric population. Teaching is a key part of the fellowship and I have had the opportunity to teach the registrars and the ICU nurses.
Before my arrival, Dr. Zuckerman had been working on a new protocol to get spine trauma patients into surgery within 72 hours of injury (or arrival at the hospital). Upon arrival I noted an opportunity to improve perioperative care in the ward, and I created a spine trauma perioperative protocol that is in the process of being implemented now. The goal is to ensure that treatment is to the highest standard, within the local framework, at all stages of patient care. I am also supporting the development of a Critical Care medication reference guide and potentially the development of a new prescription chart to improve drug treatment compliance. We have also started an informal library for ICU nurse training.
Now that Dr. Zuckerman has completed his time in Tanzania, my role will continue to be maintaining our TBI and spine trauma databases, ongoing publications, teaching, and capacity building. I will miss him as a friend and colleague, and I am grateful for the support I have here to help me succeed. 
I would encourage  anyone interested (neurosurgeons, neurophysiologists, spine surgeons, neuro paediatricians, and neurointensivists) to contact Dr. Härtl about participating in the annual Neurotrauma course or being a fellow.
More about the Global Neurosurgery Mission in Tanzania