July 2, 2020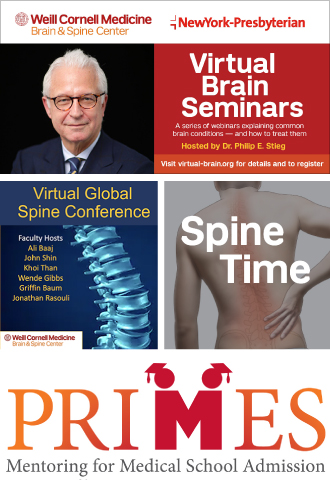 We're only about halfway through 2020, but our doctors here at the Weill Cornell Medicine Brain and Spine Center have already racked up an impressive list of awards and milestones.
Most recently, Dr. Caitlin Hoffman was named the faculty winner of the Dean's Diversity and Healthcare Disparity Research Awards for her work with the PrIMES (Program for Individualized Mentorship Education Solutions) mentorship program, which she co-founded in 2018 with Dr. Benjamin Hartley. Read more here.
Dr. Hartley, now in his sixth year of residency, was also spotlighted for his efforts with PrIMES. He was awarded the 2020 Pioneers in Diversity Bruce Laine Ballard, M.D. Award by the Weill Cornell Medicine Office of Diversity and Inclusion for his efforts for co-founding, expanding, and developing the PrIMES mentorship program. Through this award, Weill Cornell spotlighted his commitment to improving student life and fostering a supportive environment in which all students can thrive. Read more here.
Internally, we also honored our residents for excellence in their contributions to peer-reviewed medical literature and in research. Dr. Ibrahim Hussain was awarded the 2020 Michael L.J. Apuzzo Resident Literature Award, which recognized his paper, "Transforaminal Endoscopic Lumbar Discectomy and Foraminotomy with Modified Radiofrequency Nerve Stimulator and Continuous Electromyography Under General Anesthesia." The Apuzzo Award honors a resident who exemplifies original thinking and was published in a major peer-reviewed journal. Dr. Evan Bander was also awarded the Christopher G. Gaposchkin Resident Research Award for his paper, "IDH Mutant Glioma: Metabolism and Microenvironment." The Gaposchkin prize honors a resident for excellence in research. Read more here.
Our efforts also expanded online. Dr. Ali Baaj started an initiative called the Virtual Global Spine Conference at the outset of the pandemic. His meeting, co-hosted with colleagues at other leading spine institutions around the country, led to a meeting of many minds. The roster of attendees now includes nearly 2,000 spine specialists from more than 40 countries.

Dr. Roger Härtl and the spine surgeons at the Weill Cornell Center for Comprehensive Spine Care established a bi-weekly webinar titled "Spine Time," where they discuss patient-focused topics such as back pain and the source of pain. 
Lastly, neurosurgery chairman Dr. Philip Stieg started his series of "Virtual Brain Seminars," in which he focuses on one brain condition per session to an audience that includes both patients and professionals. Conditions have included acoustic neuroma, trigeminal neuralgia, and aneurysms. 
In the midst of all the uncertainty, we are more committed than ever to excellent care and education. Here's to more accomplishments as we head into the second half of 2020!