June 15, 2014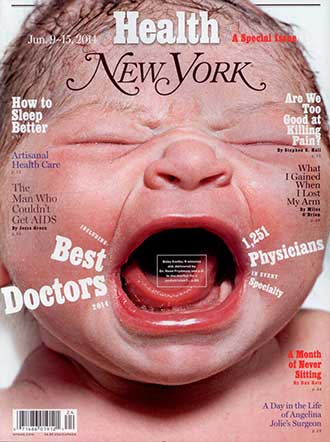 The Weill Cornell Brain and Spine Center is proud to count six of our neurosurgeons among the Best Doctors listed in New York magazine's annual Best Doctors issue. This year's list includes four of our full-time faculty — Dr. Philip E. Stieg, chairman of the department of neurosurgery and neurosurgeon-in-chief; Dr. Mark Souweidane, vice chair of the department and director of pediatric neurosurgery; Dr. Roger Härtl, chief of spinal surgery; and Dr. Theodore Schwartz, co-director of surgical neuro-oncology and director of the center for epilepsy and pituitary surgery — and two of our voluntary attendings, Dr. Philip H. Gutin and Dr. Mark H. Bilsky. All six of these neurosurgeons also earned the even more exclusive "America's Top Doctors" designation from Castle Connolly.
Drs. Gutin and Bilsky, along with a seventh Best Doctor, Dr. Viviane Tabar, participate in the Weill Cornell neurological surgery residency program, ensuring that the neurosurgeons of tomorrow are being trained by the most highly skilled neurosurgeons in the field today. These seven outstanding neurosurgeons are world-class specialists, and we at the Weill Cornell Brain and Spine Center are privileged to have them on our team.

The "Best Doctors" issue of New York includes 1,251 of the tri-state area's top primary doctors and specialists, a list culled from the larger list of Top Doctors: New York Metro Area published by Castle Connolly in April.