June 5, 2017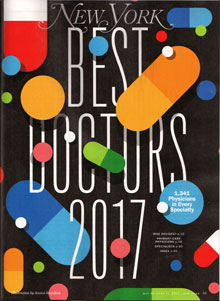 The 2017 list of "Best Doctors in New York," published this week by New York magazine, includes eight neurosurgeons from the Weill Cornell Brain and Spine Center. This list is published each year, naming the top primary doctors and specialists in the New York metropolitan area. These highly respected physicians are a small subset of the 6,000 names in Castle Connolly Medical's list of Top Doctors: New York Metro Area, published each April. This year's "Best Doctors" issue of New York includes 1,341 of the 6,000 doctors on the Castle Connolly list. The department is honored to have such a large presence on this distinguished list.
This year's list includes Dr. Philip E. Stieg, chairman of the department of neurosurgery and neurosurgeon-in-chief;  Dr. Mark Souweidane, vice chair of the department and director of pediatric neurosurgery;  Dr. Roger Härtl, chief of spinal surgery; Dr. Eric Elowitz, specialist in minimally invasive spine surgery; and Dr. Theodore Schwartz, specialist in endoscopic skull base and minimally invasive epilepsy surgery. Three of the additional faculty we share with Memorial Sloan-Kettering Cancer Center are also named on the list: Dr. Mark Bilsky, Dr. Philip Gutin, and Dr. Viviane Tabar.   

Many of our neurosurgeons also appear in the highly selective Castle Connolly national list of America's Top Doctors  and America's Top Doctors  for Cancer, in addition to being on the list of New York's Top Doctors. Dr. Philip Stieg has been named one of America's Top Doctors for 16 years in a row, and has also been on the list of America's Top Doctors for Cancer for 12 years, since the inception of that list.