Dr. Baaj Leads JNS Editorial Team on Spinal Deformity Issue
You are here
Dr. Baaj Leads JNS Editorial Team on Spinal Deformity Issue
Ali Baaj, M.D., associate professor of neurosurgery specializing in spinal deformity and oncology, was given the honor of leading the team of editors who contributed to the October 2017 issue of the peer-reviewed Journal of Neurosurgery: Neurosurgical Focus on pediatric spinal deformity.
This special issue included 15 articles and editorials on different aspects of spinal deformity in children and teens, from surgical techniques for scoliosis correction to the effects of body mass index on young patients with spinal deformities.
In addition to editing the issue, Dr. Baaj and collaborators published a thorough review on adolescent idiopathic scoliosis geared primarily to neurosurgeons.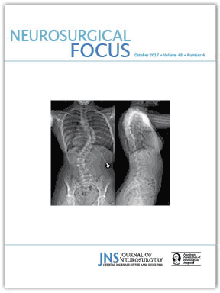 Dr. Baaj received specialized training in adult deformity and oncology at Johns Hopkins in Baltimore, and he obtained additional pediatric scoliosis training at Necker Children's Hospital in Paris. 
Prior to joining the Weill Cornell Medicine faculty, Dr. Baaj was the director of the Spinal Neurosurgery Program at the University of Arizona at Tucson, where he led the clinical and research programs. He was the 2013 and 2014 neurosurgery faculty recipient of the Humanism in Medicine award while he was at the University of Arizona. In 2016, he received the Faculty Teacher of the Year award for the Department of Neurological Surgery at Cornell.
The Journal of Neurosurgery is a peer-reviewed journal that serves to advance the practice of neurosurgery worldwide. It has been recognized for its articles on clinical and laboratory research as well as its focus on innovative surgical techniques and instruments. According to Thomson Reuters it is the most highly cited journal in neurosurgery.