July 23, 2019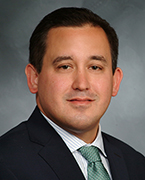 Dr. Kai-Ming Fu of the Weill Cornell Medicine Brain and Spine Center has been appointed to the Board of Directors at the NeuroPoint Alliance (NPA) and has been named chair of the organization's Ad Hoc Committee for the 2019-2020 year. In this role, Dr. Fu will lead the efforts of the committee to improve patient care through the development and evaluation of outcomes data.
The NPA is an affiliate of the American Association of Neurological Surgeons (AANS) and was established in 2008 to improve the quality of neurosurgical care through the acquisition, analysis, and reporting of clinical data. The alliance provides the AANS with data, including the Quality Outcomes Database (QOD). The Ad Hoc Committee represents the AANS/CNS Section on Disorders of the Spine and Peripheral Nerves (DSPN). The mission of the DSPN is to advance spinal neurosurgery, improve patient care, support research, and provide leadership in medical education. 
In his new role, Dr. Fu will work under the leadership of Zoher Ghogawala, MD, chair of the DSPN.