June 21, 2017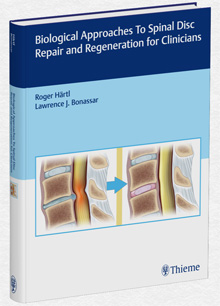 Dr. Roger Härtl of the Weill Cornell Brain and Spine Center and Dr. Lawrence Bonassar of the Cornell University Department of Biomedical Engineering in Ithaca have published a new book, Biological Approaches to Spinal Disc Repair and Regeneration for Clinicians. The text, published by Thieme, is the first book to cover innovative tissue engineering and biological interventions as treatment options for degenerative disc disease.
Dr. Härtl and Dr. Bonassar have been collaborating for years on biologic discs, with the goal of creating a tissue-engineered replacement for degenerated or damaged discs. The biologic discs are made of collagen gel seeded with disc cells or stem cells. The hope is that implanting these biologic replacements could trigger regeneration of the diseased segment of the spine.
As leaders in this emerging field of biological interventions for disc degeneration, Dr. Härtl and Dr. Bonassar have brought together a comprehensive guide to the state of the art in these new techniques. The book includes an overview of the anatomy and biomechanics of the spine, a summary of current treatment methods and clinical trials, and descriptions of the groundbreaking alternatives now under investigation by researchers around the world. It also includes clinical pearls from prominent spine surgeons and clinicians based on years of practice.
 The book covers:
nucleus replacement and repair
annulus fibrosus repair
total disc transplantation
mechanical total disc replacement
strategies for disc regeneration, including genes and proteins
platelet-rich plasma (PRP)
stem cells and chondrocytes
animal versus human models, and in-vitro testing
The book is available for pre-order now before its publication in July.  It is an excellent resource for neurosurgeons and orthopedic surgeons specializing in disorders of the spine, for biomedical engineers with an interest in advanced spine research, and for any clinicians interested in tissue engineering and biological treatment interventions.
Click here for more information and to order
More about Dr. Hartl's and Dr. Bonassar's work