February 1, 2017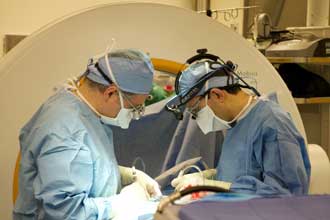 She didn't know it as she was wheeled into surgery, but Kathy Zaccaria was about to be operated on with one of the most advanced integrated O.R. systems available. Dr. Roger Härtl was planning to use a mobile intraoperative CT scanner in conjunction with surgical navigation as he performed Kathy's surgery – as he done nearly 200 times before.
The intraoperative CT scanner, Airo, was developed by Mobius together with Brainlab. Using the scanner with automatic image transfer to Brainlab's image-guided navigation system (called Curve) a surgeon can navigate to and around a surgical site with increased confidence. Dr. Härtl was not surprised that Kathy came through surgery without a hitch, and was discharged from the hospital the next day.
Dr. Härtl started using the Airo system in November 2014, when NewYork-Presbyterian/Weill Cornell Medical Center became the first facility in the New York area to bring it online. A bit more than two years later, Dr. Härtl, chief of spinal surgery and neurotrauma at Weill Cornell Medicine and NewYork-Presbyterian, has now done more procedures using the new equipment than anyone else in the northeastern United States. There are just 30 other machines in clinical use in the nation, and only a handful of surgeons have acquired the level of experience and expertise with intra-operative navigation than Dr. Härtl has.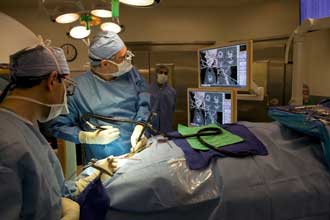 "I have long been an advocate of using navigation in spine surgery," says Dr. Härtl. "This system provides high-quality imaging during surgery, allowing me to place rods and screws with the utmost of accuracy, and ensure that the patient is getting the precise placement we intend."
The doughnut-shaped scanner can take a full spinal scan in just 30 seconds, and since the surgical table is integrated with the scanner there is little to no disruption in the procedure. During surgery, Dr. Härtl can see updated scans as he's working, and take a new scan whenever necessary.
"It's so important to confirm our results at each step, so we can proceed in confidence and not have to wait for post-surgical MRIs," he says. "Using navigation lets me use minimally invasive techniques, but with an excellent view of the anatomy and the surgical correction." Minimally invasive spine surgery allows the neurosurgeon to make a smaller incision and disrupt less of the surrounding tissue; patients experience less pain and have shorter recovery times.
Ten days after surgery, Kathy and her husband attended a Bruce Springsteen concert, and a few weeks after that she was back at work. And that, says Dr. Härtl, is the best part of the high-tech navigation system: It gets patients back to living their normal lives quickly, with their back pain in the past.