June 8, 2017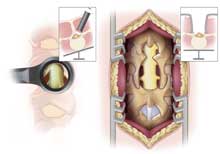 A newly published study by Dr. Roger Härtl and his team, "Lumbar Spinal Stenosis Associated with Degenerative Lumbar Spondylolisthesis: A Systematic Review and Meta-analysis of Secondary Fusion Rates Following Open vs Minimally Invasive Decompression," has been selected by the Congress of Neurological Surgeons as the 2017 Neurosurgery Top Spine & Peripheral Nerve Paper of the Year. The paper was written by Dr. Karsten Shöller, and Dr. Härtl will present the results at the annual 2017 CNS meeting in  Boston in October.  
The award-winning study was an exhaustive meta-analysis comparing secondary fusion rates after traditional open laminectomy as compared with minimally invasive decompression surgery in patients with lumbar spinal stenosis associated with stable low-grade degenerative spondylolisthesis. For the paper, the team looked at 37 studies, covering 1,156 patients over more than 30 years. The article concludes that in these patients, the minimally invasive option resulted in lower reoperation and fusion rates, less slip progression, and greater patient satisfaction than open surgery.   
The paper, published in the March 2017 issue of Neurosurgery, comes on the heels of another of Dr. Härtl's papers, "Ten-Step MIS Lumbar Decompression and Dural Repair through Tubular Retractors," which was e-published in August 2016 in advance of its appearance in Operative Neurosurgery in March 2017. In that paper, Dr. Härtl summarized the procedures he's perfected over the last decade, using minimally invasive techniques for four of the most common spine conditions. (See Going for It, a success story about one of Dr. Hartl's patients who benefited from this approach.)
The CNS Top Paper distinction covers all articles submitted to Neurosurgery  between June 2016 and June 2017.    
Illustration by Thom Graves, CMI