October 16, 2017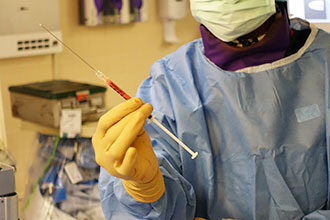 Dr. Roger Härtl, director of spinal surgery at the Weill Cornell Brain and Spine Center and director of the Weill Cornell Medicine Center for Comprehensive Spine Care, recently performed an innovative procedure to repair a herniated disc using the patient's own extracted and purified adipose (fat) tissue. The procedure, which took advantage of the high concentration of mesenchymal stem cells (MSCs) present in adipose tissue, has enormous potential for repairing herniated and degenerated discs.
In typical herniated disc surgery, the bulging portion of the disc is removed, which relieves painful pressure on the nerves but leaves the defect in the disc itself. Dr. Härtl's team has been leading the way in research to find innovative ways to repair the defect, including the development of new collagen gels and bioengineered tissue to replace the faulty disc. Like those efforts, this new procedure has the potential to repair a damaged disc using biological material – in this case, the patient's own fat cells.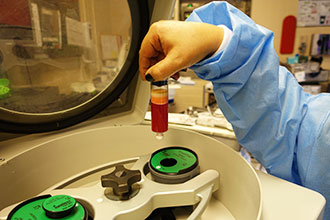 Dr. Härtl developed the concept and planned the procedure based on the most recent scientific results with Dr. Christoph Wipplinger, a fellow in neurological surgery who will analyze the results. The idea grew out of conversations with Dr. Stephen Victor, the founder of ReGen Medicine, which develops regenerative procedures for dermatological use. Dr. Victor developed a procedure using the stem cells found in adipose tissue—that technology inspired Dr. Härtl and Dr. Wipplinger to develop their procedure using mesenchymal stem cells to repair a herniated disc.
In the procedure, Weill Cornell Medicine plastic surgeon Jason Spector, MD, aspirated adipose tissue from the patient's lower back and the OR team began the process of purifying it on site while Dr. Härtl performed minimally invasive surgery to repair the herniated disc. Dr. Härtl then injected the purified fat cells directly into the nucleus of the newly repaired disc.   
Adipose tissue is known to be rich in stem cells, with concentrations 20 to 40 times higher than found in bone marrow. Stem cell research has typically used cells extracted from bone marrow, but Dr. Härtl's procedure did not extract those cells, leaving them within the purified fat cells injected into the disc.
The power of stem cells lies in their ability to differentiate into several types of cells, including connective tissue. The mesenchymal stem cells found in adipose tissue, when purified and injected into a damaged disc, are expected to transform into fibroblasts and thus enhance the recovery of the degenerated segment.
More information about Dr. Härtl