December 13, 2016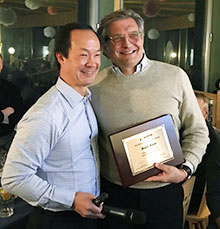 Dr. Roger Härtl, professor of neurological surgery and director of the new Weill Cornell Medicine Center for Comprehensive Spine Care, has been named the AOSpine Regional Educator of the Year. The award was presented yesterday at the annual meeting of AOSpine in Davos, Switzerland. Dr. Härtl was honored by the global spine society for his international leadership role in educating neurosurgeons in minimally invasive spinal surgery (MIS) techniques.
The Regional Educator of the Year Award recognizes a highly respected member of the AOSpine Community who has demonstrated sustained and significant contribution to educational excellence. Dr. Härtl has chaired several AOSpine MIS courses over the past three years and has developed much of the innovative educational material used in those courses. The 2016 course, for example, introduced a new surgical simulator to teach surgeons less invasive spinal surgery.
Dr. Härtl also played an integral role in the creation of the AOSpine Minimally Invasive Spinal Surgery Online Modules, which debuted at the 2015 course in Phoenix, Arizona. To develop those modules, Dr. Hartl worked with the AO Education Institute and AOSpine Education International to create procedural videos, illustrated step-by-step guides, and a webinar in addition to selecting pre-course reading and two cases for online discussion.
Dr. Härtl is a sought-after speaker and faculty member at MIS conferences and courses worldwide, and co-hosts (with Dr. Luiz Pimenta) his own MIS and navigation CME course in New York City each December. (Get more information on that course here.)