July 14, 2014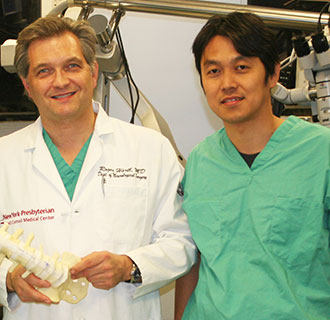 Dr. Yu Moriguchi, a research fellow on Dr. Härtl's team, has been awarded a start-up grant from the AO Foundation for a research project that holds promise for the repair of herniated discs. The grant is 60,000 Swiss Francs (about $67,000 USD). In this project, researchers hope to show that damaged discs in sheep can be repaired using high-density collagen gels cross-linked with riboflavin. This process has already been successful in damaged rat tails; sheep have anatomy more comparable to human spines and are a better model for the study.
Dr. Moriguchi will be the Principal Investigator of this new project, which is the latest step in a long-term research effort being conducted by Dr. Roger Härtl at the Weill Cornell Medical College Department of Neurological Surgery in New York and Dr. Larry Bonassar of the Department of Biomedical Engineering in Ithaca. The goal is to improve treatment options for those with herniated discs, which is one of the most common causes of back pain. Current surgical treatment, discectomy, is effective at relieving the symptoms of a herniated disc by taking the pressure off the affected nerve, but it does not repair the damage to the disc, which can herniate again and require additional treatment.
There is currently no way to seal off the herniation and effect a more permanent cure. Dr. Härtl's team has been investigating biological approaches to this problem, in the hope of developing new treatment options for disc herniation and other degenerative disc diseases.
The goal is to replace degenerated tissue with biologically engineered tissues. Since these composites have properties similar to healthy tissue, they restore functionality to diseased spinal segments. The team is investigating both collagen gel and tissue-engineered intervertebral discs.
Find out more about the spine team's research.