November 23, 2016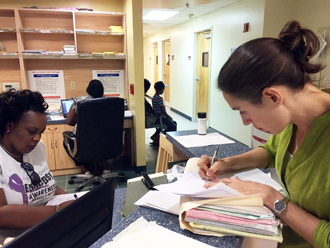 Earlier this month Dr. Caitlin Hoffman led a medical team from Weill Cornell Medicine to the Caribbean island nation of Antigua and Barbuda, bringing much-needed expertise in epilepsy to a population that desperately needs it. The Weill Cornell medical team included neurologists/epileptologists, a neuropsychologist, a dietician, and an EEG technician, who collaborated in this effort to improve the skills of local health care providers.
The trip was made possible by a grant from art historian and landscape architect Barbara Paca, Ph.D. Dr. Paca, a New Yorker who is a Cultural Envoy to Antigua, provided the grant to allow our epilepsy team to bring its expertise to the island.
The Weill Cornell team was joined by another group from Dell Children's Medical Center at the University of Texas, Austin. The Dell team was led by Dr. Dave Clark, a pediatric neurologist and sleep specialist, and included another neurosurgeon as well as a physiatrist, EEG technician, and more.  
Epilepsy has long been misunderstood and stigmatized in Antigua, and this trip was part of a new annual Epilepsy Week effort to reduce the stigma and improve treatment. Epilepsy Week 2016 was the second such program, much expanded from last year's. Experts this year saw 94 patients at Mount St. John's Medical Centre and Cedar Grove Clinic, providing a vital opportunity for hands-on training of local providers. The U.S. teams also conducted classroom workshops for physicians and educators and a community education talk to improve understanding of epilepsy among the population.
"There is a long history of epilepsy being terribly misunderstood," says Dr. Hoffman. "We assume patients are no longer being stigmatized and misdiagnosed; however much of that attitude and misapprehension still exists in some parts of the world. This is a tremendous opportunity to demystify a brain disorder and get patients the help they need."
To that end, training included sessions on new classification of epilepsy; managing and selecting anti-epileptic drugs; surgical approaches for epilepsy; and advice about driving during pregnancy for women with epilepsy.
The dignitaries and officials who attended the opening session expressed gratitude for the visiting teams along with hope that improving local skills will greatly improve outcomes. The Minister of Health, Molwyn Joseph, recalled a time not long ago when individuals with epilepsy, including his own sister, needed to travel 1,000 miles to Jamaica for treatment. By improving treatment options at home, and helping to dispel old myths about the disorder, Dr. Hoffman's team hopes to make that situation a distant memory.
More about Dr. Hoffman | More about our Pediatric Epilepsy Program
See also: Our neurosurgical mission in Tanzania and Mission BRAIN in Mexico