Dr. Lin Brings Stroke Awareness to Chinese Community
You are here
Dr. Lin Brings Stroke Awareness to Chinese Community
Dr. Ning Lin, assistant professor of neurological surgery, spoke about stroke prevention and treatment at a community outreach event at the Nan Shan Senior Center in Flushing, Queens. The May 16 event, part of the Chinese Health Initiative at New York Hospital Queens, was presented as part of Stroke Awareness Month.
Dr. Lin stressed the importance of early treatment for stroke patients, since outcomes are better the earlier a patient is seen (more about stroke). Risk awareness is also key, so those with a personal history of hypertension or previous stroke, or with a family history of stroke, should be monitored regularly. Dr. Lin also reviewed the two types of stroke — ischemic, which is caused by a blocked blood vessel in the brain, and hemorrhagic, which is caused by a rupture that causes bleeding into the brain. Hemorrhagic stroke is the more serious of the two, since bleeding increases pressure in the brain and could be fatal. 
The audience at the Chinese Health Initiative's Stroke Awareness Event
A specialist in advanced minimally invasive treatments for stroke and other cerebrovascular conditions. Dr. Lin explained some of today's leading diagnostics and treatments, including cerebral angiography, catheter angiography, endoscopic surgery and microsurgery. Advanced treatments such as arterial embolization for aneurysms and arteriovenous malformations (AVMs), available at major medical centers, have revolutionized the treatment of cerebrovascular conditions, including stroke. 
View the Chinese-language presentations on the NYHQ site: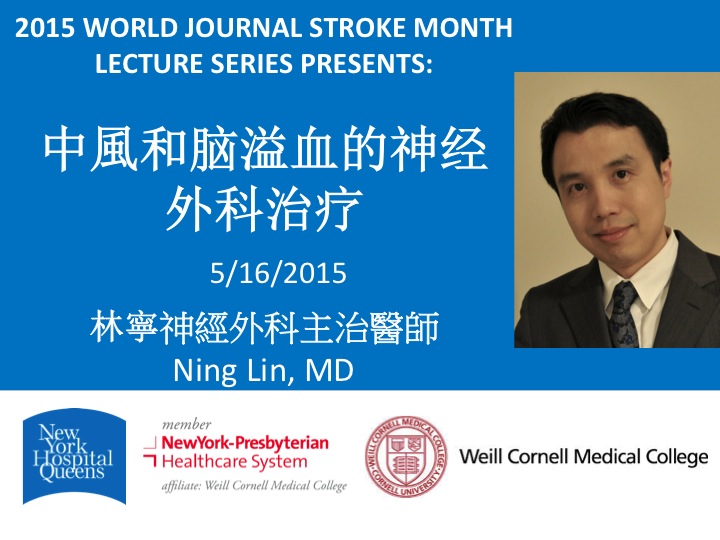 The Chinese Health Initiative provides advocacy and translation services to Chinese patients, assisting them in making and keeping appointments, communicating with providers and staff, and finding the support services they need. The program also conducts community health outreach programs such as the Stroke Awareness program as well as other education events and medical screenings.
Dr. Lin treats patients at both the main campus of NewYork-Presbyterian/Weill Cornell Medical Center on the upper east side as well as at NewYork-Presbyterian/Queens.