June 14, 2019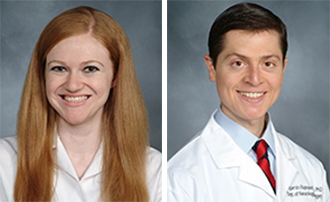 Whitney E. Parker, MD, PhD, and Benjamin I. Rapoport, M.D., Ph.D. have been named winners of the 2019 Michael L. J. Apuzzo Resident Literature Award for Creativity and Innovation for their outstanding contributions to the peer-reviewed medical literature.
Dr. Parker, who is completing her fifth year of neurosurgical residency, won the award for "Magnetic Resonance-Guided Focused Ultrasound for Ablation of Mesial Temporal Epilepsy Circuits: Modeling and Theoretical Feasibility of a Novel Non-Invasive Approach," which she co-authored with Dr. Caitlin Hoffman and Dr. Michael Kaplitt, along with Elizabeth K. Weidman, MD, J. Levi Chazen, MD, Sumit Niogi, MD, PhD, and Rafael Uribe-Cardenas, MD.
The paper reported on research testing the feasibility of magnetic resonance-guided focused ultrasound (MRgFUS) ablation of mesial temporal lobe epilepsy seizure circuits as a safer alternative to open surgical resection, laser ablation, and radiosurgery. Researchers modeled ablation sites and devised theoretical MRgFUS surgical plans; they established that eight of the study's 10 subjects had adequate elements available to target the ablation site and concluded that focused ultrasound is a feasible non-invasive option for seizure tract disruption. Dr. Apuzzo lauded this project as being an excellent example of the "storm of ideas" that drive progress in neurosurgery.
Dr. Rapoport, completing his sixth year of neurosurgical residency, was recognized for "Intraventricular Endoscopic Neurosurgery," a new textbook he is co-authoring with Dr. Mark M. Souweidane. Dr. Rapoport's work with Dr. Souweidane on the text provides what Dr. Apuzzo calls a "monograph classic." The book describes all aspects of current, state-of-the-art intracranial endoscopy in the ventricular system. Dr. Apuzzo describes it as providing "not only eloquent guidelines, but a snapshot statement of the ultimate art and science of intraventricular endoscopy as it exists today."
The Apuzzo Award, established in 2017, is named for Michael L. J. Apuzzo, M.D., who is widely recognized as a pioneer in neurosurgery. Dr. Apuzzo was lauded as neurosurgery's "primary intellectual catalyst" at Sweden's Karolinska Institute during the Herbert Olivecrona Medal ceremonies in Stockholm in 1998, when he was presented with the award known as the "Nobel Prize of Neurosurgery." Previous winners of the Apuzzo Award include Dr. Brenton Pennicooke (2017) and Dr. Thomas Link (2018)