July 2, 2020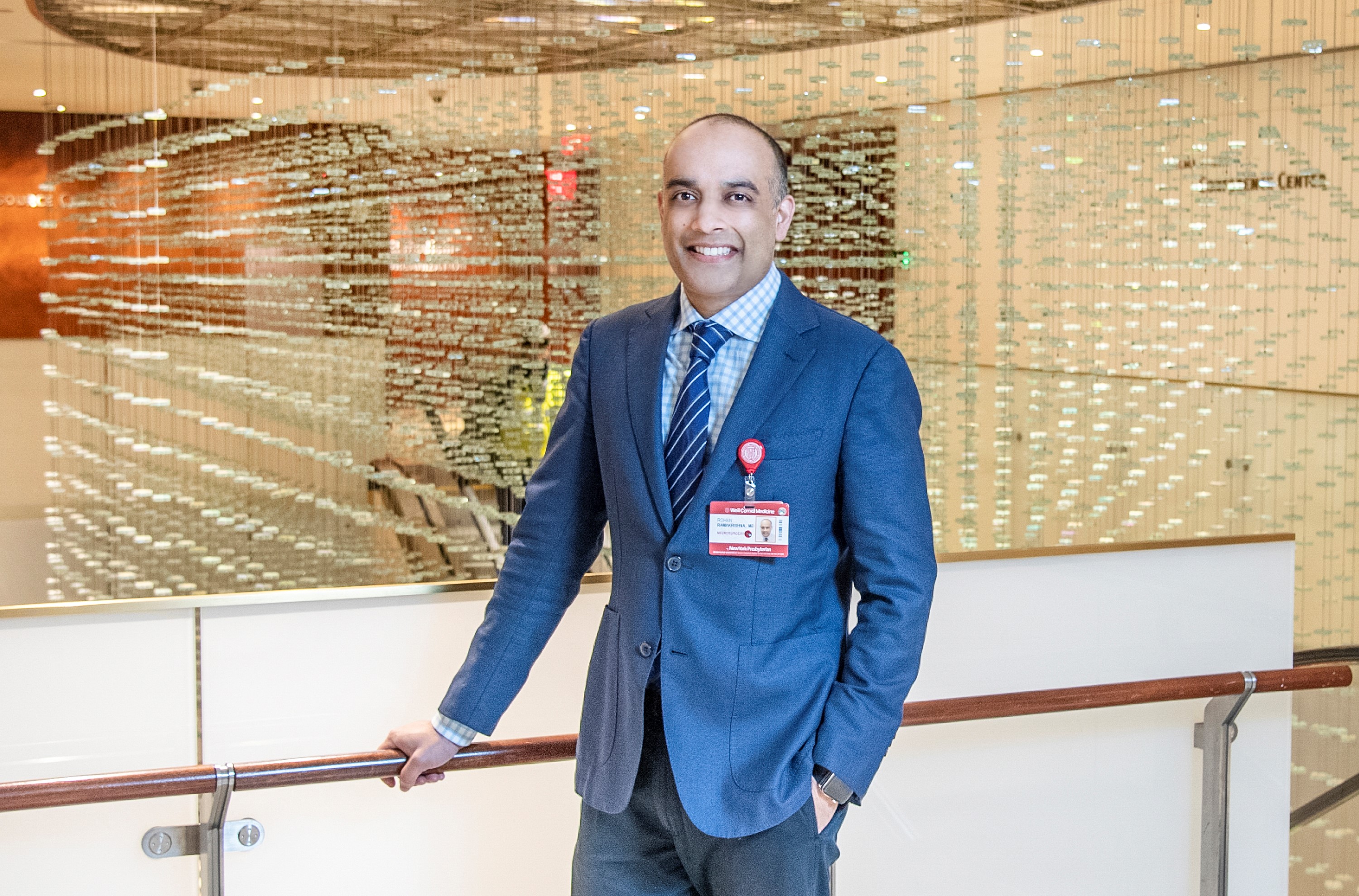 Dr. Rohan Ramakrishna, Alvina and Willis Murphy Associate Professor of Neurological Surgery, has been appointed Chief of Neurological Surgery at NewYork-Presbyterian Brooklyn Methodist. In addition to his role as director of the Brain Metastases Program at Weill Cornell Medicine and co-director of the William Rhodes and Louise Tilzer-Rhodes Center for Glioblastoma at NewYork-Presbyterian, Dr. Ramakrishna will now head up the growing neurosurgery department in Brooklyn.
Dr. Ramakrishna joined Weill Cornell Medicine in 2014 and has distinguished himself as a pioneer in brain tumor surgery and neuro-oncology. He has led innovative clinical trials for primary glioblastoma and leads a multidisciplinary team providing state-of-the-art care to patients with metastatic tumors of the brain and spine. He recently published a new text on brain metastases, Central Nervous System Metastases, which provides comprehensive information on the medical and surgical management of brain and spine metastases. 
In announcing the appointment Dr. Philip Stieg, neurosurgeon-in-chief of NewYork-Presbyterian/Weill Cornell Medical Center and director of the Weill Cornell Medicine Brain and Spine Center, said, "We are committed to expanding our services in Brooklyn, and there is no one better than Dr. Ramakrishna to lead the way on that project. He is a true innovator, and he brings world-class brain tumor treatment and leadership to an already strong team.  We have had two outstanding neurosurgeons in Brooklyn, Dr. Martin Zonenshayn and Dr. Michael Ayad, and we recently added Dr. Louis Chang as a spine specialist. With Dr. Ramakrishna to lead that team and provide his strength in brain tumor treatment, Brooklyn Methodist now offers a brain and spine center that will be the envy of many a neurosurgical facility."
"Brooklynites deserve a top-notch brain and spine center," said Robert Guimento, president of NewYork-Presbyterian Brooklyn Methodist.  "We've been building our neurosurgery team here over the past few years and I could not be happier to have Dr. Ramakrishna joining us now to take our services to the next level."
Dr. Ramakrishna added, "We are committed to providing the highest level of neurosurgical care to the Brooklyn community. Across our missions of clinical care, research, and education we will ensure that Brooklyn residents receive world-class neurosurgical attention right at home."
Several of Dr. Ramakrishna's patients have been featured online, in print, and in the NewYork-Presbyterian "Amazing Things" television ads. See those stories here.
More about Dr. Ramakrishna | More about NewYork-Presbyterian Brooklyn Methodist