July 20, 2020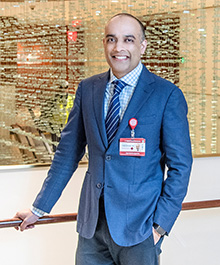 The William Rhodes and Louise Tilzer-Rhodes Center for Glioblastoma at NewYork-Presbyterian has awarded a quarter-million-dollar seed grant to Dr. Rohan Ramakrishna, Dr. Howard Fine, and Dr. Dan-Avi Landau to study the impact of genetic alterations on cellular states in glioma. In this initiative, the investigators will utilize single-cell sequencing techniques pioneered by the Landau lab to characterize the epigenetic encoding of cell state programs in glioma. The project will also reconstruct high-resolution lineage histories of glioma single cells in an effort to measure heritability and estimate plasticity of cell states. 
The Rhodes Center for Glioblastoma was founded in 2017 thanks to the philanthropy of William Rhodes. The mission of the center is to advance care for glioblastoma and other brain cancers by supporting genomic and precision medicine and translational research to rapidly bring promising new therapies from bench to bedside. Dr. Ramakrishna, a neurosurgeon and director of the Brain Metastases Progam at Weill Cornell Medicine, and recently appointed chief of neurosurgery at NYP Brooklyn Methodist, and Dr. Fine, the founding director of the Brain Tumor Center at NewYork-Presbyterian Weill Cornell Medicine, are co-directors of the Rhodes effort. Dr. Landau, a core member of the independent New York Genome Center, is Associate Professor of Medicine, Physiology, and Biophysics at Weill Cornell Medicine and the head of the Landau Lab.
The research team also includes Weill Cornell Medicine postdocs Federico Gaiti, MSc, PhD, and Ronan Chaligne, MSc, PhD; and Angelika Tapia, MBA. The goal of the project, which is scheduled to run through the end of 2021, is to provide preliminary data for further peer-reviewed funding.  
See also: Dr. Ramakrishna Named Chief of Neurosurgery at NewYork-Presbyterian Brooklyn Methodist