April 29, 2022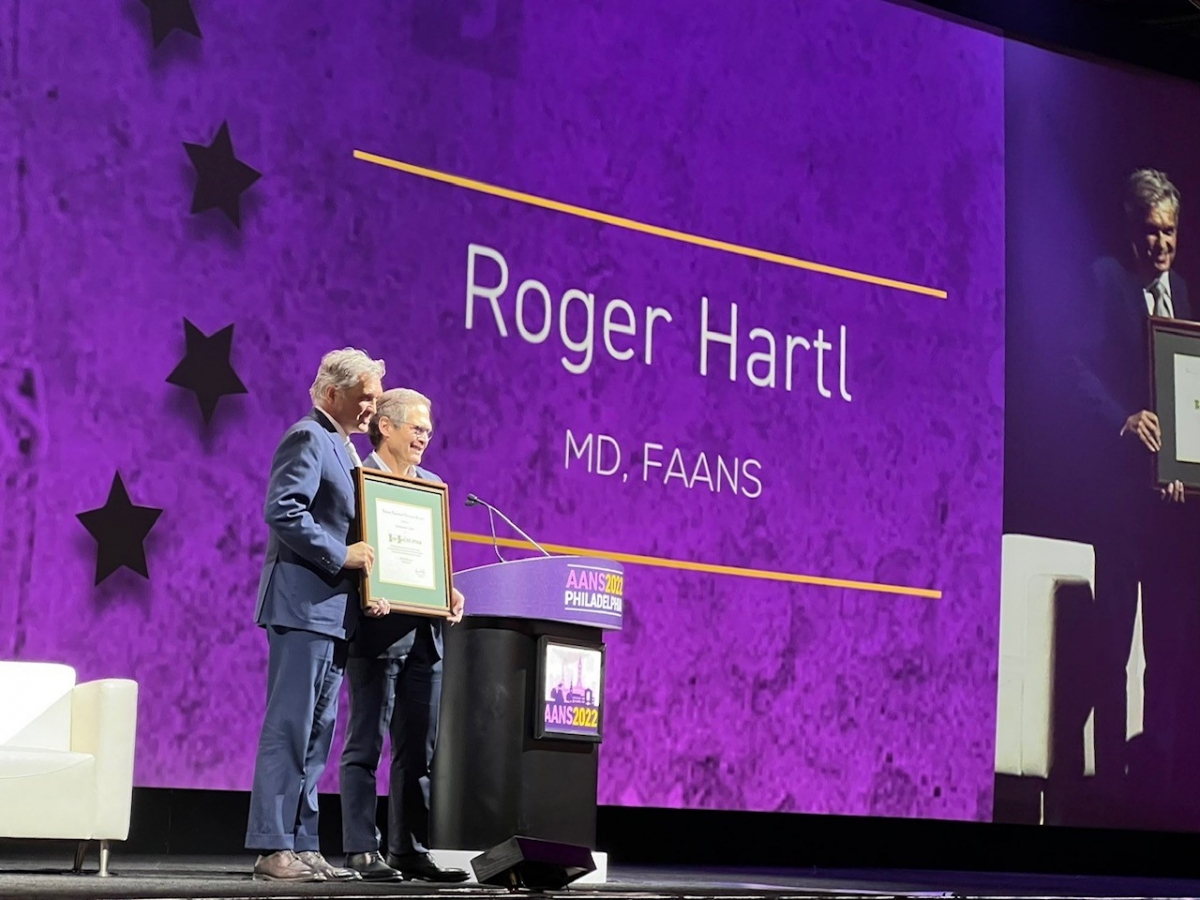 At the 2022 annual meeting of the American Association of Neurological Surgeons in Philadelphia, Dr. Härtl was honored as the AANS Humanitarian of the Year.  Dr. Härtl was lauded for his life-saving work in Tanzania and for his commitment to global neurosurgical education through CME courses and European training classes. The award is one of the highest honors bestowed by the AANS, which recognized Dr. Härtl for his years of dedication to these projects.
Dr. Härtl first visited Africa as a medical student, he was profoundly affected by what he saw. Children with untreated hydrocephalus suffered needlessly; teens and adults lost decades of useful life as a result of uncorrected spinal deformity; and too many patients died while waiting for surgery after traumatic injury. He started thinking about what could be done to bring neurosurgical training to that under-served continent, and in 2008 he led the first team of Western practitioners to initiate a neurosurgical program in Tanzania.
In the nearly 15 years since then, Dr. Härtl has worked tirelessly to build on that early effort, and his dedication has paid off. What was originally called the Neurosurgical Mission in Tanzania has grown from a single trip delivering supplies into a robust year-round program with weekly Zoom meetings, an exchange of fellows, and an annual hands-on neurotrauma course. With a focus on training the trainers, Dr. Härtl is ensuring that the program will not become mired in dependency.
The donor-funded fellowship program assigns Western-trained neurosurgeons to work in Tanzania for a year or more at a time, re­inforcing the lessons taught in the annual trip. African-trained providers also come to New York to train alongside Dr. Härtl here at Weill Cornell, then bring those newfound skills back home to continue training their peers in country.
Despite the interruption in travel due to the pandemic, Dr. Härtl maintained the program using virtual meetings, hosting the annual neurotrauma course on Zoom, and even adding a second virtual course focused on scoliosis. Plans are underway for another course, this one on minimally invasive surgery using locally available instruments.
In awarding Dr. Härtl this honor, the AANS said:
"In addition to his great work in Tanzania, Dr. Härtl has led for the past 20 years an annual neurosurgery and spine training program for Eastern European surgeons in Salzburg, Austria, in conjunction with Cornell University and the American Austrian Foundation.  Furthermore, through AO Spine and other organizations, Roger has taught spine surgery techniques to surgeons in numerous other locations, including Pakistan and Iraq. Consistent with other great teachers and humble, servant leaders, Dr. Härtl has often expressed of his global experiences that he learns as much from those who he teaches and heals, as they from him."
We congratulate Dr. Härtl on this great honor and look forward to supporting the Tanzania Neurosurgery Project and his other global work for many years to come.
More about the Tanzania Project