Dr. Schwartz Named PNA's 2013 "Gentle Giant"
You are here
Dr. Schwartz Named PNA's 2013 "Gentle Giant"
Dr. Theodore Schwartz was presented with the 2013 Gentle Giant Award by the Pituitary Network Association on November 8, 2013. The prestigious award is given to those who demonstrate an outstanding commitment to pituitary medicine, patient care, and education. Previous winners have included Dr. Charles Wilson, Professor Emeritus of the University of California, San Francisco; Scott Hamilton, Olympic gold medalist and honorary chair of the PNA board of governors; and Nobel laureate Roger Guillemin, M.D., Ph.D., past president of the Salk Institute for Biological Studies in La Jolla, California.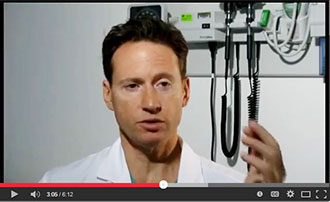 Video: Endoscopic Pituitary Surgery at the Weill Cornell Brain and Spine Center.
(Click image to launch video player.)
Dr. Schwartz, Professor of Neurosurgery, Otolaryngology, Neurology and Neuroscience at the Weill Cornell Brain and Spine Center, is an internationally recognized expert in the surgical treatment of brain tumors, pituitary tumors, and epilepsy using the latest techniques in computer-guided surgical navigation, minimally invasive endoscopy, and microsurgery.  Along with his surgical partner, otolaryngologist Vijay Anand, M.D., Dr. Schwartz routinely performs operations to remove tumors that other surgeons deem too large or complex to remove endoscopically.  He has lectured around the world in advanced endoscopic techniques and has written two textbooks, Endoscopic Skull Base Surgery and Endoscopic Pituitary Surgery. Dr. Schwartz also directs a research laboratory investigating novel techniques for imaging and treating epilepsy.
The award was presented at a dinner that followed a full-day CME course on the Pituitary Gland in Health and Disease co-hosted by the Weill Cornell  Brain and Spine Center and the PNA. Find out more about the CME course here.