May 15, 2018
At a ceremony in the Great Hall at Ellis Island on Saturday night, Dr. Philip E. Stieg, professor and chairman of the Department of Neurological Surgery at Weill Cornell Medicine and Neurosurgeon-in-Chief of NewYork-Presbyterian/Weill Cornell Medical Center, was awarded the prestigious Ellis Island Medal of Honor. The Medal of Honor, which is an award recognized by Congress, is given annually to exceptional individuals for outstanding contributions to their field.
The awards are bestowed by the Ellis Island Honors Society, which describes its selected winners as those who "embody the spirit of America in their salute to tolerance, brotherhood, diversity and patriotism. Honorees may be native-born or naturalized, but most importantly, they are individuals who have made it their mission to share their wealth of knowledge, indomitable courage, boundless compassion, unique talents and selfless generosity with those less fortunate."
"I am humbled indeed by being recognized for my work in neurological surgery," says Dr. Stieg, "especially when that recognition is tied to the American spirit of innovation and self-reliance. I'm certain that my parents would be extremely gratified to see this day, and I wish they could be here to celebrate with me."
Dr. Stieg's mother, Erika Neuwald, arrived at Ellis Island as a child in 1927, when she immigrated to the United States from Germany with her mother and her two younger brothers. They came to join their father, Dr. Stieg's grandfather, who had arrived earlier to pave their way. With the family reunited, the Neuwalds began their American life on a farm not far from Chicago; they later moved to Milwaukee, where Dr. Stieg's grandfather founded what became one of the largest electrical contracting businesses in the greater Milwaukee area. When Erika Neuwald married Edwin Stieg, her new husband joined her father's business, which they ran together for more than 40 years.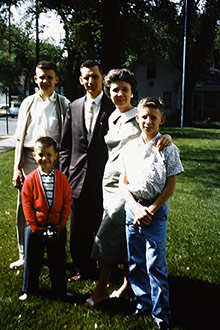 Dr. Stieg was born during those Wisconsin years and spent his youth there, eventually earning his bachelor's degree at the University of Wisconsin in Madison. He returned to Wisconsin after earning his PhD at Albany Medical College of Union University in Albany, New York, to earn his medical degree at the Medical College of Wisconsin in Milwaukee. He completed his residency in neurosurgery at the University of Texas Southwestern Medical School in Dallas, and spent a year as a research fellow in neurobiology at the Karolinska Institute in Stockholm before beginning his career in neurological surgery at Harvard Medical School and Brigham and Women's Hospital in Boston.
After more than 11 years at Harvard, Dr. Stieg was recruited to Weill Cornell Medicine and NewYork-Presbyterian Hospital in 2000 to be the founder of a new Department of Neurological Surgery. The fruits of that effort became the Weill Cornell Medicine Brain and Spine Center, which is now regarded as one of the premier centers in the nation for world-class neurosurgical patient care, the education of neurosurgery residents, and neuroscience research.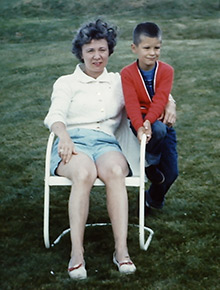 Dr. Stieg has made giving back a major priority in his personal and professional lives. He is currently serving as president of the Brain Tumor Foundation as well as president of the New York board of the American Heart and Stroke Association, which recently honored him as a 2018 "Stroke Hero." That award was bestowed for his long record of dedication to stroke prevention education and advancement of new treatments for stroke victims. Dr. Stieg has nurtured the development of the cerebrovascular subspecialty at Weill Cornell Medicine; one of his protégés, Dr. Jared Knopman, has become a leader in his own right and has advanced new treatment options for stroke, subdural hematomas, and other cerebrovascular disorders. (See The Rush of Finding a New Treatment.)
As a longtime proponent of the concept of integrated, comprehensive care, Dr. Stieg led the way in the 2016 launch of the new Weill Cornell Medicine Center for Comprehensive Spine Care, which brings together spine specialists from neurosurgery, neurology, pain management, and rehabilitation medicine all under one roof. This concept of patient-centered, comprehensive care, treating the whole person and not just a surgical problem, is central to Dr. Stieg's philosophy. The Weill Cornell Medicine Brain Spine Center includes among its clinical faculty not only neurosurgeons but neuroradiologists, neuro-oncologists, neuroendocrinologists, and neuropsychologists, all of whom collaborate to restore their patients to the fullest lives possible.
Under Dr. Stieg's tutelage, the Weill Cornell Medicine Brain and Spine Center has also developed into a major center for neuroscience research. Bench and translational research efforts as well as clinical trials are underway in areas ranging from movement disorders and pediatric brain tumors to bioengineered spine tissue and epilepsy. Clinical trials conducted at the department have led to new treatment options for epilepsy, essential tremor, and idiopathic intracranial hypertension, to name just a few.
Dr. Stieg has also developed a highly regarded neurosurgical residency program, with 14 residents working through a rigorous seven-year training cycle to become independent neurosurgeons. Alumni of the program have moved on to such prestigious academic centers as the University of Pennsylvania, the University of Washington, the University of California at San Francisco, and the University of Texas MD Anderson Cancer Center.
Accomplishments under Dr. Stieg's leadership include the opening of the Surgical Innovations Laboratory for Microneurosurgical Research, a world-class training facility with advanced 3-D visualization that provides unique opportunities for neurosurgeons on campus and around the world who attend lectures and continuing medical education courses in person or via international teleconferencing sessions.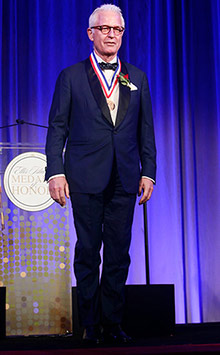 Dr. Stieg is honored with the Ellis Island Medal of Honor.
Furthering his commitment to delivering quality care worldwide, Dr. Stieg also worked with Dr. Roger Härtl to launch the Weill Cornell Medicine Neurosurgical Mission in Tanzania a decade ago. That project is dedicated to training African surgeons and other providers to care for patients who would otherwise have no access to life-saving care. Since then Dr. Stieg has joined Dr. Härtl on several trips in which Western neurosurgeons teach a course in neurotrauma, then provide several days of training in the operating room. That program has grown into a robust partnership that includes not only the annual visits but also an ongoing fellow exchange, outcomes data evaluation and management, and weekly Skype calls to keep the teams connected.
In 2017 Dr. Stieg oversaw the launch of a new partnership with the internationally respected journal World Neurosurgery, which now publishes "From the Annals of Weill Cornell Medicine" several times a year. These special sections focus on just one area of neurological surgery to highlight innovations and challenges in those areas, including skull base surgery, global health, and endonasal endoscopic surgical approaches.
Dr. Stieg is also a past Chairman of the Joint Section of Cerebrovascular Diseases for the Congress of Neurological Surgeons and former President of the Society of University Neurosurgeons in addition to serving as an advisor to the Defense Department on brain injury.