November 2, 2018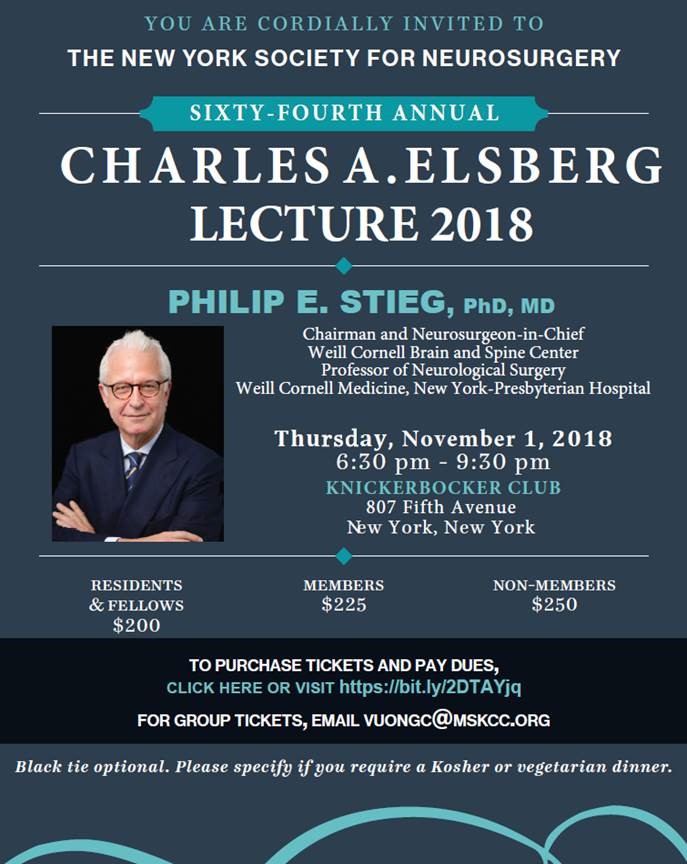 At a black-tie event at the Knickerbocker Club last night, Dr. Philip E. Stieg delivered the New York Society for Neurosurgery's annual Charles Elsberg Lecture. The lecture, "Global Neurosurgery: A Neurosurgeon's Opportunity to Affect World Hope, Communication, and Health," focused on the extensive programs the neurosurgeons of Weill Cornell Medicine have developed over the past two decades in under-served areas of the world.
Dr. Stieg has been interested in global efforts in neurosurgery for his entire career, and he brought that interest to Weill Cornell when he was recruited here in 2000 — from early didactic sessions with Eastern European neurosurgeons in Salzburg, Austria, to current programs in Tanzania, Senegal, Mexico, Antigua, Columbia, Peru, China, and Saudi Arabia, Dr. Stieg has been dedicated to bringing neurosurgery to those who need it.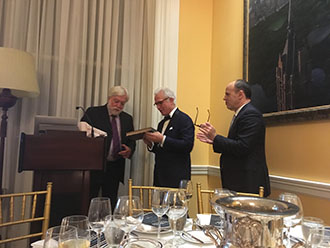 In his lecture, Dr. Stieg noted that there are 13.8 million neurosurgical cases per year worldwide, two million in Africa alone, and six million people die each year as a result of trauma, which is fully 10 percent of all worldwide deaths. There are 32 percent more trauma-related deaths than deaths than from malaria, tuberculosis, and HIV combined; 89 percent of these deaths occur in low- and middle-income countries. It is estimated that five billion people worldwide don't have access to surgical or anesthetic care at all.
Dr. Stieg credited Dr. Antonio Bernardo and Dr. Roger Härtl with helping him initiate global education and training efforts. With Dr. Stieg's support, Dr. Bernardo launched the Weill Cornell Medicine Surgical Innovations Laboratory for Microneurosurgical Research and Dr. Härtl founded the Neurosurgical Mission in Tanzania.
The Surgical Innovations Lab attracts fellows from around the world to learn and create new surgical approaches to the brain and spine, thereby allowing surgeons to understand anatomy and surgical nuances, visualize craniospinal anatomy in 3D, and gain surgical confidence.
The Neurosurgical Mission in Tanzania has grown from a small team delivering supplies and performing surgery once a year to a complex, year-round training and support program, with a full-time Global Neurosurgery Fellow posted there and weekly Skype meetings to keep our international teams connected.
 "This work involves not only neurosurgery, but also nursing, anesthesia, and neurocritical care," Dr. Stieg said. "Currently, rehabilitation and chronic care do not truly exist in Africa. That is the families' responsibility. Leadership, human resources, organizational management, negotiation skills, and business planning are all talents we take for granted, but are non-existent in Africa's educational scheme."
Other international programs have grown as well, with the most recent being a brand-new initiative in Senegal, led by Dr. Babacar Cisse. Weill Cornell Medicine neurosurgeons continue other forays to Mexico, Antigua, Columbia, Peru, China, and Saudi Arabia. Meanwhile, that initial effort in Salzburg has grown to 50 fellows a year, and more than 1,000 over the 18 years of the program.
The prestigious Elsberg Lecture is named for Charles. A. Elsberg, one of the founding fathers of modern neurosurgery — the 2018 event was the 64th such lecture in the distinguished series.